Tummy Tuck- Abdominoplasty
Sometimes exercise and diet is successful in weight loss, but fails to reduce the excess skin and drooping fat build up around your abdomen. You can get results in these trouble areas with this proven and simple procedure.
BEST TUMMY TUCK (ABDOMINOPLASTY) BY TOP COSMETIC SURGEON IN LOS ANGELES CA
Ready to contour your tummy following pregnancy or weight loss? A tummy tuck, or an abdominoplasty, is the procedure you should think about. If stubborn fat or sagging skin has left you insecure, a tummy tuck can shape you up and give you the stomach you desire in Los Angeles CA.

TUMMY TUCK SURGERY BEFORE AND AFTER IN LOS ANGELES CA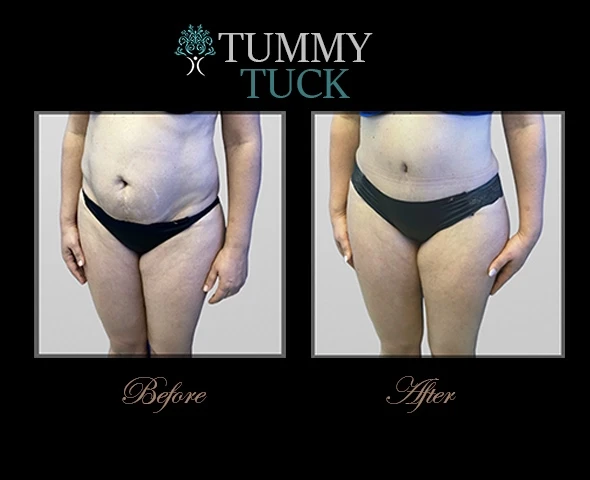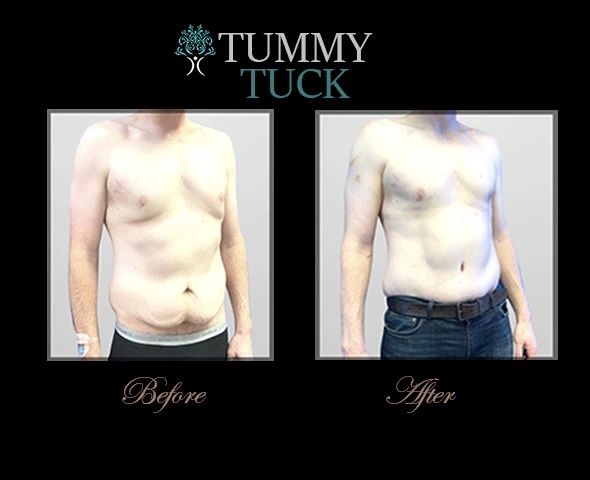 MORE TUMMY TUCK EXAMPLES:

When you opt for a tummy tuck, Dr. Moein will remove excess skin and fat. In many instances, Dr. Moein can repair separated or weakened muscle tissue. The result is a slimmer, tighter, and more aesthetically pleasing body shape.
BEST TUMMY TUCK SURGEON IN LOS ANGELES, CA
Here at Moein Surgical Arts, we are dedicated to providing excellent care to each and every person who walks through our door. Just a few of the top reasons why so many women and men in the Los Angeles area and beyond choose to trust us with their body contouring goals are:
Dr. Babak Moein is double-board-certified in comprehensive cosmetic aesthetic surgery and minimally invasive surgery and is the only cosmetic surgeon in Southern California holding these two qualifications.
With years of experience performing body contouring procedures, Dr. Moein is dedicated to providing the highest quality results to LA men and women who want to look and feel their best.
Dr. Moein's team is highly skilled and committed to providing a friendly, welcoming environment, as well as top-notch care.
If you are considering having a tummy tuck in Los Angeles and would like more information specific to your needs and goals, please contact us to schedule a consultation. Our friendly, knowledgeable team is here to help and answer any questions that you may have.
BENEFITS OF GETTING A TUMMY TUCK
A flat, toned stomach is a physical feature many of us strive for through proper diet and exercise. But a multitude of factors such as aging, genetics, pregnancy, and weight fluctuations all play a role in the appearance of our midsections. Tummy tucks are ideal for those who want to address the following:
DIASTASIS RECTI:

Following pregnancy or massive weight loss, some women and men experience a condition known as diastasis recti. Diastasis recti is the widening of space between your abdominal muscles. This gradual separation leads to the weakening of your muscles as well as the appearance of a "bulge" or "pooch". Tummy tucks are a great option to tighten, position, and strengthen the abdominal muscles.
LOOSE, FLABBY, EXCESS SKIN:

Significant weight loss can lead to the appearance of excess skin. Also, we progressively lose our skin's natural elasticity as we age. Weight loss and aging are 2 of the top reasons why people seek out a tummy tuck in Los Angeles CA.
SELF-ESTEEM & CONFIDENCE

Unwanted changes in the abdominal area can lead to low confidence and self-esteem. You may be uncomfortable and insecure at the beach, pool, or gym. A tummy tuck can help boost your confidence by positively affecting your physical appearance.

Abdominoplasty is commonly combined with liposuction to remove stubborn pockets of fat as well as address loose skin and muscle tissue. Many women choose to include a tummy tuck in their mommy makeover, which is a customized combination of multiple procedures such as abdominoplasty, liposuction, and breast enhancement.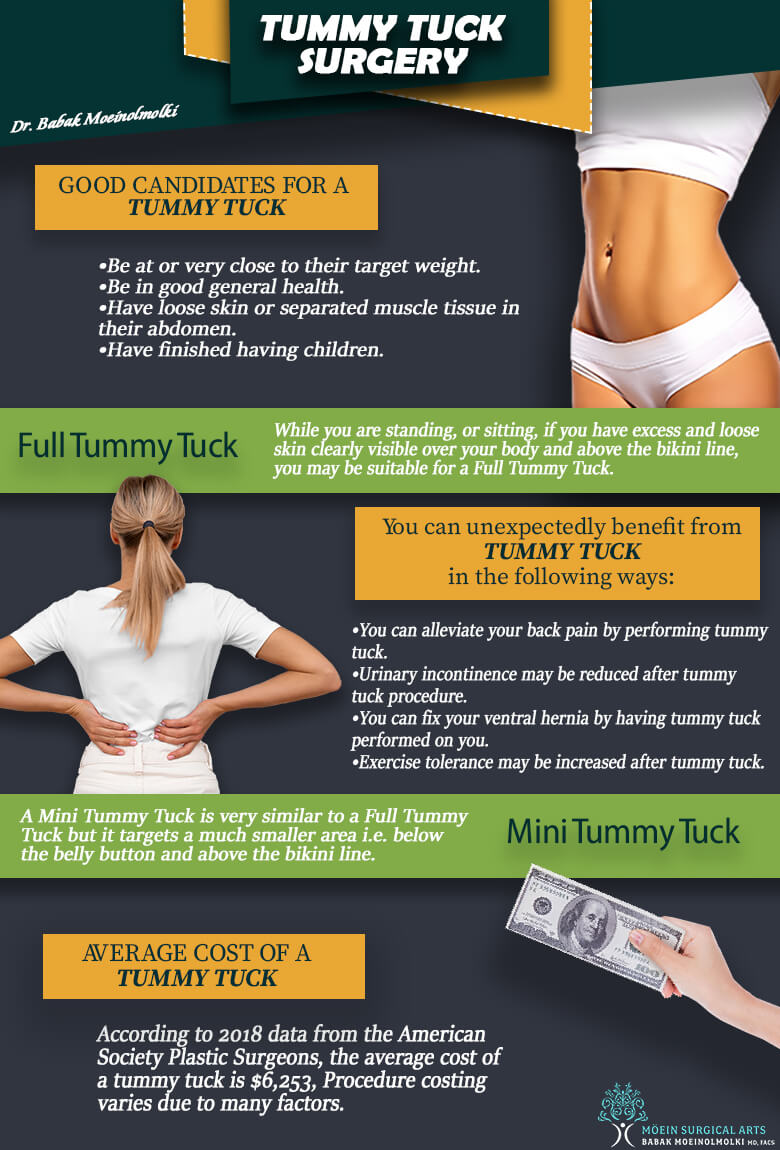 GOOD CANDIDATES FOR A TUMMY TUCK (ABDOMINOPLASTY ) LOS ANGELES CA
Virtually anyone who is struggling with excess skin or separated abdominal muscles may be able to benefit from a tummy tuck. The ideal candidate for this procedure should:
Be at or very close to their target weight.
Be in good general health.
Have loose skin or separated muscle tissue in their abdomen.
Have finished having children.
Although tummy tucks can do wonders for your physical appearance and self-confidence, it is important to know these things regarding tummy tucks in Los Angeles, CA:
They cannot and should not replace a healthy lifestyle consisting of proper diet and exercise. Although the results of your procedure are technically permanent, they can still be diminished with significant fluctuations in your weight.
They cannot get rid of stretch marks. Although in some cases, it may be possible to remove stretch marks if they were located on the excised flap of skin.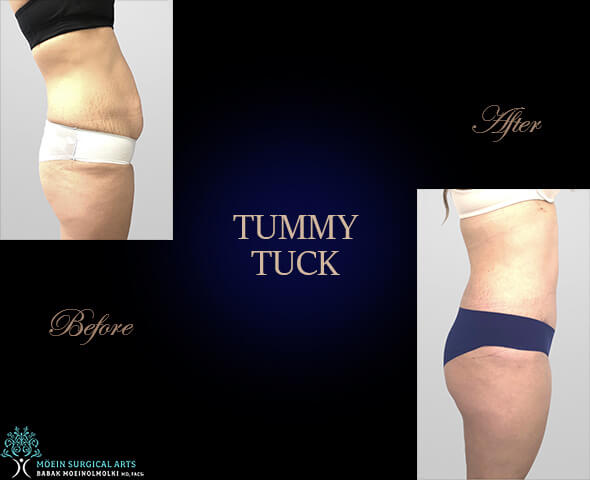 Dr. Moein offers both the full and the mini tummy tucks as well as a minimally invasive treatment option. The right choice for you will depend on your unique body type and shape, as well as your goals for your final results. During your consultation with Dr. Moein, you can discuss your specific trouble spots and goals to help you decide which surgical technique may be the best choice for you.
Full Tummy Tuck Los Angeles, CA
Most people see the best results from a full tummy tuck, which typically takes between 2 and 5 hours to perform. It involves a horizontal incision, placed from hip to hip, located anywhere between the belly button and the pubic hairline. Liposuction is very commonly included with a full tummy tuck to address both exercise-resistant fat and excess skin. In some cases, a second incision above the belly button may be made to offer more comprehensive results.
Mini Tummy Tuck Los Angeles, CA
This option is available for those who have a relatively small amount of excess skin, compared to full tummy tuck candidates. This procedure typically only takes 1 to 2 hours to perform and the incision is usually much shorter than with a full tummy tuck. Your belly button is usually not affected by the mini tummy tuck technique, and liposuction can also be included for more comprehensive results. However, keep in mind that only loose skin below your belly button can be addressed with a mini tummy tuck.
Please contact us online or call our office at 310-694-4486 to schedule your consultation with Dr. Moein.

To find out more about DR BABAK MOEIN. We advise you to request a consultation online. If you prefer, you are more than welcome to call our office
to schedule your appointment.

HOW TO PREPARE FOR YOUR TUMMY TUCK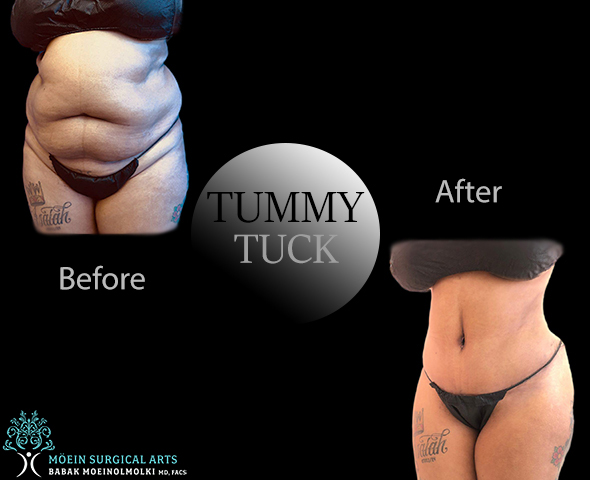 Dr. Moein will give you detailed instructions on how to prepare for your tummy tuck surgery. Some general guidelines for your care plan may include blood tests, medication adjustments, and medication to avoid taking such as aspirin, ibuprofen, and Motrin.
Dr. Moein will consider your past experience with pain medications, your risk factors for opioid addiction, the anticipated discomfort after surgery, and your individual pain tolerance and goals to create a pain management plan.
Stopping smoking at least four weeks before your tummy tuck surgery is required as it can impair proper healing. Dr. Moein is happy to support patients with smoking cessation resources.
Be sure to avoid food or drink intake after midnight the night prior to your procedure, and arrange for someone to drive you to and from your procedure.

YOUR TUMMY TUCK PROCEDURE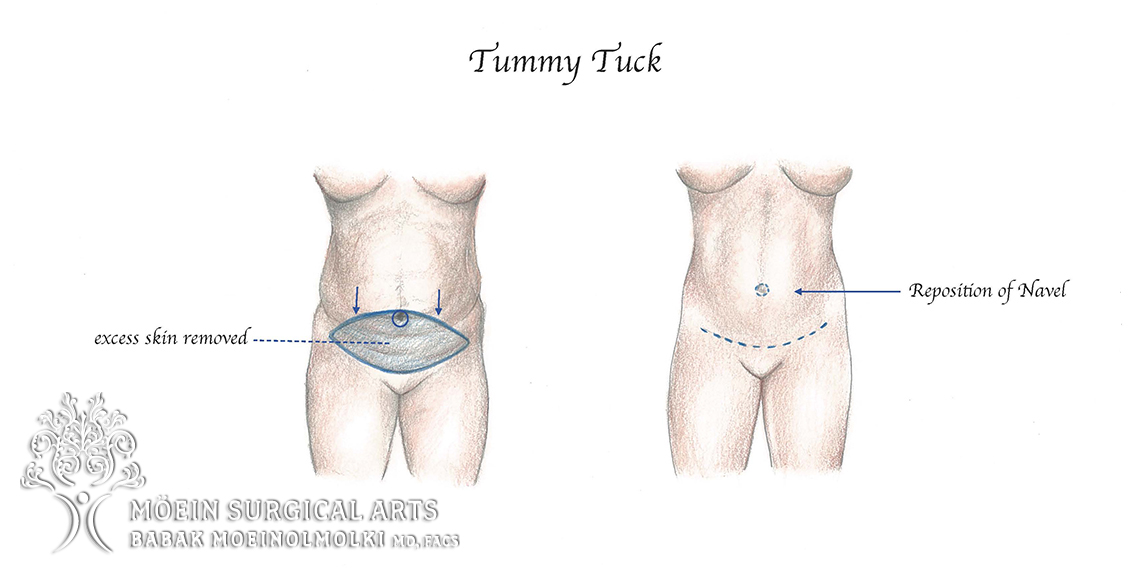 Tummy tucks are often combined with liposuction, although your surgeon will advise you on the best route to take to achieve your desired results. Dr. Moein will assess your body and your goals, and then choose the best approach to make your tummy tuck recovery time optimal and your final results a dream.
Next, an incision is made underneath the excess flap of the skin. Dr. Moein then repairs and tightens any weakened or separated abdominal muscles before removing the excess skin. The incision will then be closed, and dressing is placed along the incision. The length of time it takes to complete your tummy tuck surgery depends on the type of tummy tuck you choose and can vary from person to person, based on your individual needs and goals.
TUMMY TUCK RECOVERY & RESULTS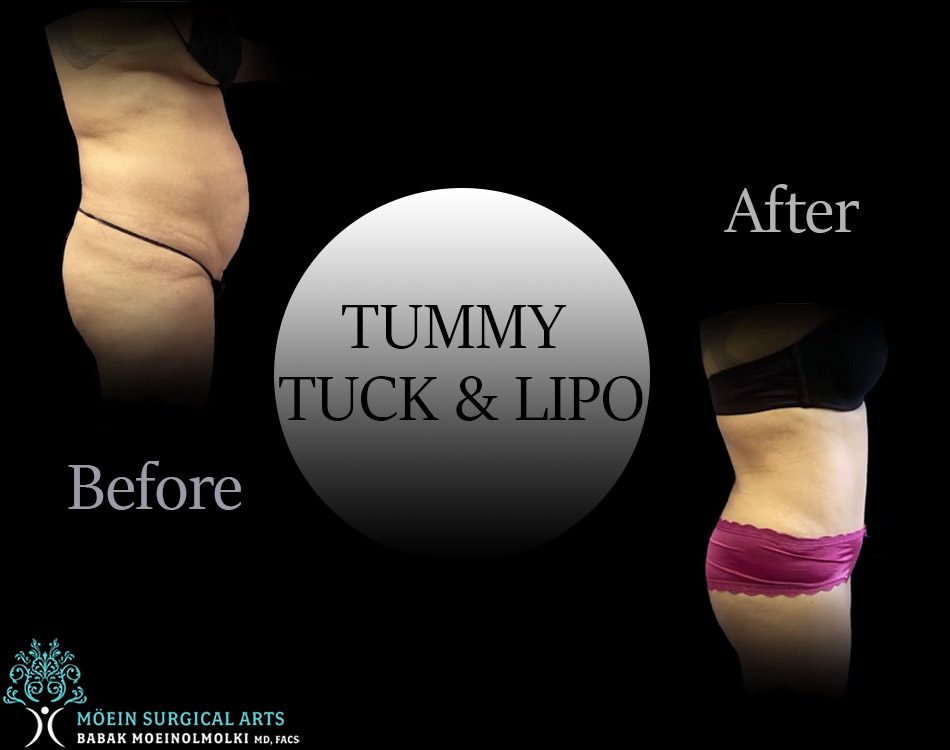 As you recover following your tummy tuck, you will need someone else to assist you in moving around and helping around the house. You can expect general swelling, bruising, and soreness in your abdomen. The compression garment given to you by Dr. Moein will assist in your recovery to minimize swelling and promote a smooth, more compact midsection. The garment must be worn at all times for a few weeks following surgery, and may only be taken off to clean the garment and take sponge baths.
You may be instructed to walk around a bit within the first week to encourage proper blood flow and healing. Since abdominoplasty involves the removal of skin and the tightening of abdominal muscles, it may be normal for you to find standing, extending, and stretching difficult. During this period of recovery, please refrain from any physical straining or extra effort to perform these activities.
Over the coming weeks and months, you should begin to notice gradual changes to your body shape, and side effects like swelling and bruising should start to diminish. It can take up to 6 months to see your final results.
Abdominoplasty can produce long-lasting results. However, in order to maintain them, you should continue to follow a healthy diet and exercise plan. Life changes such as aging, weight fluctuations, and pregnancy can alter your results.
THE AVERAGE COST OF A TUMMY TUCK SURGERY IN LOS ANGELES CA
According to 2018 data from the American Society of Plastic Surgeons, the average cost of a tummy tuck is $6,253, Procedure costing varies due to many factors. From surgical and anesthesia fees to health problems and body type, many things can affect the final cost of your procedure. The team at Moein Surgical Arts understands just how important budgeting for these procedures can be and we make sure fully prepare you for the financial burden by discussing your payment options and fully vetting any expenses.
Request a consultation today to find out more about Dr. Babak Moein and your tummy tuck options.
ABDOMINOPLASTY OR TUMMY TUCK FAQS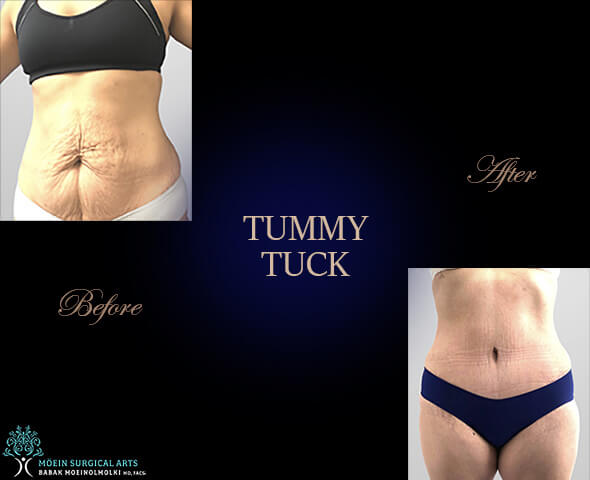 Should you lose weight before a tummy tuck?
Remember the tummy tuck is not a weight loss procedure; you will see the best results if you reach your ideal weight before your tummy tuck. It is generally recommended that tummy tucks only be performed on patients with a BMI of 30 or below. Extensive weight loss after surgery can alter the results of the tummy tuck.
Can a tummy tuck be covered by insurance?
Insurance does not generally cover cosmetic procedures, but if your tummy tuck is deemed medically necessary, insurance may cover some of the costs. Talk with your insurance provider for more information. Dr. Moein's staff are experienced at working with insurance companies on our patient's behalf.
Will a tummy tuck remove stretch marks?
A tummy tuck can eliminate or improve the appearance of stretch marks in certain areas. Since the excess skin is removed on the lower abdomen during a full tummy tuck, any stretch marks that are located in that area can be removed as well.