BREAST AUGMENTATION & LIFT
BREAST AUGMENTATION & LIFT
For women who are looking to increase the size of their breasts and also elevate and reshape their breasts to a more youthful and perky position, Dr. Moein can perform a combination breast augmentation and lift procedure. This type of surgery is also known as mastopexy augmentation.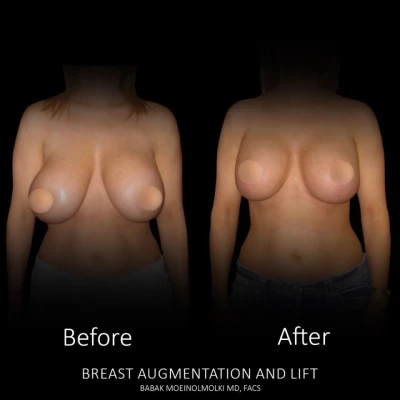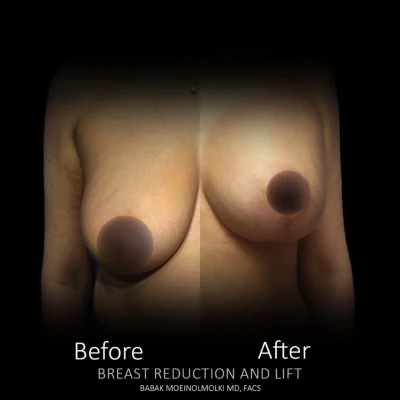 MORE BREAST AUGMENTATION/LIFT EXAMPLES:
Breast implants by themselves can dramatically increase the size of the breasts, but they will not elevate the breasts and in fact may contribute to additional sagging over time. For women whose breasts have begun to droop or sag, a breast lift gives the ability to restore a youthful-looking appearance.
A combined breast augmentation and lift is a popular option for women who have had children, and women in their 30s, 40s and 50s who want to add volume and achieve a lifted look. It's a popular option for mommy makeovers and can be combined with many other body contouring procedures.
During your consultation with Dr. Babak Moein, he will discuss the combined breast augmentation and lift technique and give you time to ask plenty of questions. Dr. Moein has extensive experience in combined breast augmentation/breast lift procedures and provides some of the most competitive prices in the Los Angeles area.
We offer convenient and easy consultation appointments where you can learn more about breast enhancement. You can schedule a consultation online or give us a call and our friendly staff members will be happy to book your visit.
Depending on your existing breast anatomy and how much ptosis (drooping) is present, Dr. Moein will use one of 4 incision techniques to begin your combined breast augmentation and lift. Note that in general the more your breasts droop, the more extensive your incisions will be to provide the needed correction and lift.
The procedure begins with general anesthesia being administered to allow you to sleep comfortably through the procedure and minimize discomfort. An incision is then created around the nipple on each breast. You can learn more about the types of breast lift incisions
After the incisions are made, Dr. Moein has access to remove excess breast skin and tissue. He can also create a pocket within the breast tissue where each implant will be placed. The breast implants are placed using the same incision made for the breast lift. Silicone or saline implants can be used as part of this procedure. To complete the operation, the incisions are closed with medical stitches.

To find out more about DR BABAK MOEIN. We advise you to request a consultation online. If you prefer, you are more than welcome to call our office
to schedule your appointment.

After surgery, you'll recover briefly in our recovery room before being sent home. Dr. Moein will prescribe pain medication to help keep you comfortable for the first few days after your procedure. We will also provide detailed instructions to follow after surgery so that you have the best chance of recovering without complications. We urge you to follow these instructions carefully.
While you're recovering, you will need to take care to be very gentle with the tissues in the chest area. You should be ready to return to your normal routine within about a week, but you'll need to take a break for several weeks from strenuous exercise or other activities that are too physically taxing.
Some bruising and swelling following surgery is normal, and it can be minimized by the use of cold compresses and wearing a special surgical support bra. You'll have a follow-up appointment with Dr. Moein to make sure your healing is well underway.