When you don't like the size and shape of your breasts, your quality of life can suffer. You might feel depression, anxiety, and – in severe cases – you might find yourself avoiding situations entirely, especially those of an intimate nature.
While it's important to maintain realistic expectations, cosmetic breast surgery can change your entire world.
Some benefits of breast surgery include better fitting clothes, a boost to your physical health, a brighter outlook on life, and a surge of self-esteem.
Read our article: How Does Cosmetic Surgery Build Self-Esteem and Confidence?
Here are some of the most popular breast surgeries you should know about. You will also learn if you're an ideal candidate for these procedures, and where to go to have your breasts recontoured for a shapelier and sexier body.
Keep in mind as you are reading through the following list, the fees mentioned include estimates only. Your fees may vary. Learn more by calling Moein Surgical Arts in Los Angeles, California.
Popular Options in Cosmetic Breast Surgery
Breast Augmentation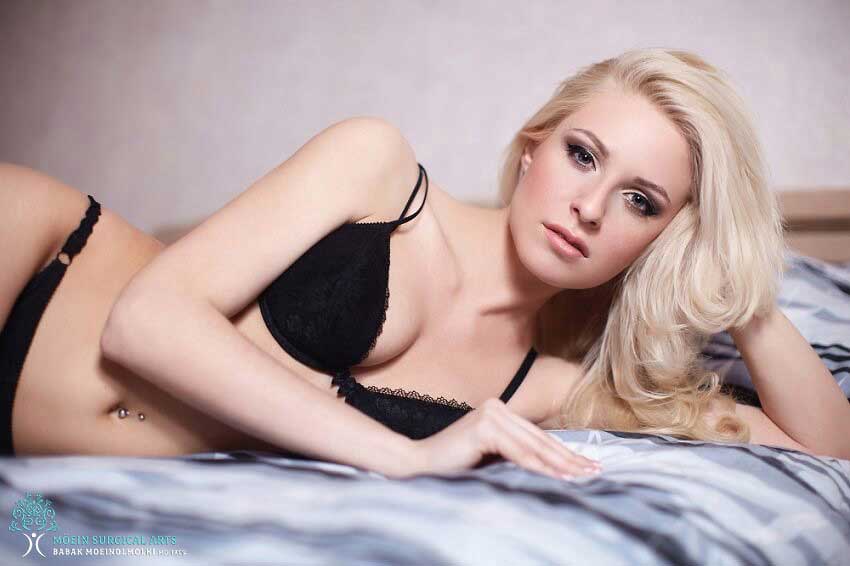 The term cosmetic breast augmentation implies breast implants, which are used to make your breasts larger and fuller.
Unlike plastic or reconstructive surgery, which is used to reconstruct the breasts following a mastectomy, cosmetic procedures are used for aesthetic purposes only.
Read our article: Cosmetic Surgery vs. Plastic Surgery – Which is Right for You?
When you choose breast augmentation, you have your choice of implant type. Breast implants can be made of saline or silicone gel. And then there are the popular Gummy Bear implants.
Read our article: Breast Augmentation Trend: Smaller, More "Natural" Implants
Saline Breast Implants
Saline breast implants have been in use since the 1960s. The outer shell is made of silicone, which makes the implant malleable. This is a good thing since the implant is inserted under the breast skin and muscle while empty.
Inserting empty implants allows the incisions to remain small, which also makes for less scarring once healed. When the saline implants are inserted, they are filled up with sterile salt water. The size of the implant and the amount of water depends on how big and full you want your implants to be.
Saline implants are available to women 18 years of age and older.
Silicone Breast Implants
Silicone implants are pre-filled before they are inserted under the skin and muscle. Instead of using saltwater like saline breast implants, silicone implants are filled with a thick, sticky fluid that is similar to the feel of human fat. As you can imagine, many women report that silicone breast implants feel the most realistic compared to saline breast implants.
Silicone implants are available to women 22 years of age and older.
Breast augmentation with saline or silicone implants costs an average of $5,000 to $10,000, with silicone implants being slightly more expensive than saline implants.
Gummy Bear Breast Implants
Gummy bear implants refer to a popular type of breast augmentation that gives you teardrop-shaped results. The implants are gel-based and tend to retain their shape better than both saline and silicone implants. They are also softer to the touch compared to both other implant types.
This form of breast augmentation has been around since the mid-2000s. The outer shell and filling are both made of silicone.
Gummy bear implants are more expensive than silicone and saline implants, with the price tag of this surgical procedure coming to a national average of $6,000 to $12,000.
Keep in mind that the costs offered here only refer to the fees associated with the implants themselves. They don't cover additional costs, such as the surgeon's fees, anesthesia, surgical center fees, and others. Insurance does not usually cover the cost of breast augmentation for aesthetic purposes.
All three breast implant types can give you a more contoured body and improved self-esteem. Generally speaking, it can take up to several weeks to fully recover from breast augmentation surgery.
Natural Breast Augmentation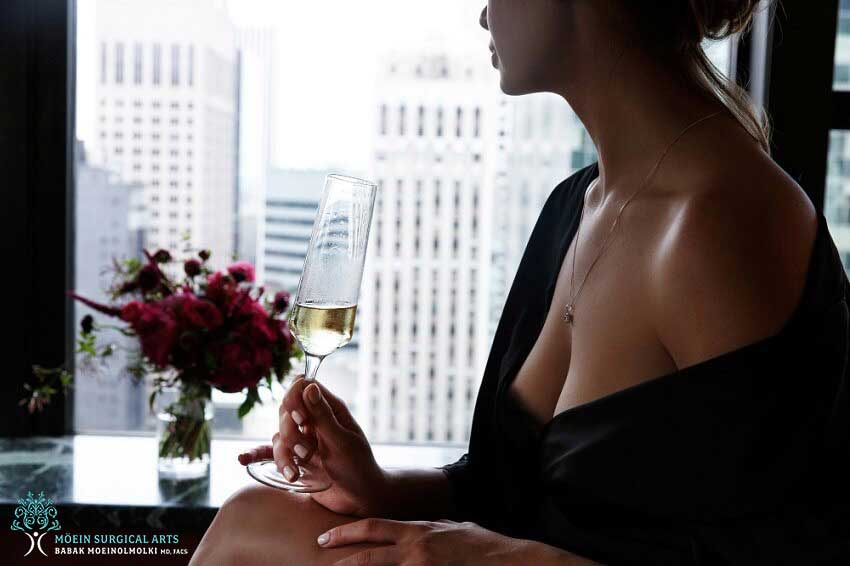 Natural breast augmentation can also give you larger and fuller breasts without the use of breast implants. The technique makes use of the fat transfer technique, which uses your own fatty tissue to add volume and shape to both breasts.
Read our article: What is Natural Fat Grafting? And How Long Does it Last?
The procedure is minimally invasive and offers natural-looking results.
During the procedure, fat is taken from another portion of your body using liposuction. Popular donor sites include your abdomen, flanks, or inner thighs. This has the added benefit of slimming down one part while you simultaneously improve breast volume.
Read our article: Liposuction vs. HD Lipo: What's the Difference?
After the fat is sterilized and liquified, the fat cells are inserted into your breasts until the proper size and shape are attained.
Benefits
A significant benefit of the fat transfer technique is that you can add size to your breasts without inserting a foreign prosthetic under the skin. The procedure is also basically scarless since the surgeon inserts the fat by way of injection. The surgeon uses a lighter form of anesthesia as well, which can be easier on your body and makes for a more comfortable recovery.
Read our article: Benefits of Fat Grafting for Breast Augmentation
Unlike breast implants that can give you drastically more size and volume, the fat transfer technique gives you a subtle boost as if nature gave it to you. Your body will reabsorb about 20% to 40% of the injected fat, which is why the cosmetic surgeon will typically overfill to account for this natural tendency. You and your surgeon can decide how much filler you want with this safe and amazing breast augmentation technique.
You won't take weeks to recover after the fat transfer breast augmentation. You'll be back to work in three or four days in most cases.
The overall cost of the fat transfer technique comes to around $10,000.
The fat transfer technique can be added to breast implant augmentation for greater size and added volume.
Breast Lift
A breast lift procedure is ideal for breasts that have drooped and sagged due to age, childbirth, or significant weight loss.
Read our article: 4 Medical Benefits of Breast Lift Surgery
Cosmetic surgeons use different techniques for breast lift surgery depending on the expected breast size and shape, the size and position of your areolas, and the amount of sag that has taken place. Surgeons also account for your skin quality and elasticity, as well as the amount of excess skin that they need to remove.
During the procedure, which is also referred to medically as a mastopexy, the cosmetic surgeon will lift the breasts and place them higher on your chest. Excess skin is cut away and the areolas are reshaped and resized to match your new breast symmetry.
Unlike breast augmentation and natural transfer breast augmentation, a breast lift does not make your breasts bigger. However, you can choose to couple the breast lift with breast augmentation.
If you want your breasts to be smaller, you can mix the breast lift with breast reduction surgery.
Important Question
One question often asked by women considering the breast lift is if the breasts will sag again following the procedure. This is not an easy question to answer. However, larger breasts are heavier and are thus more likely to sag again in the future. Women with smaller breasts tend to have longer-lasting results.
Following the breast lift, you will notice an immediate change in the position and appearance of your breasts. Their shape will continue to change over the next few months. And while there will be noticeable scarring, and they are permanent, they should soften and fade within the next couple of years. You can usually hide any scarring that does result with bras and bathing suits.
The cost of a breast lift procedure is $5,012, according to the American Society of Plastic Surgeons. If you want to add breast augmentation with the breast lift, the average cost is $6,225. The breast lift coupled with a breast reduction costs $4,636.
Breast Reduction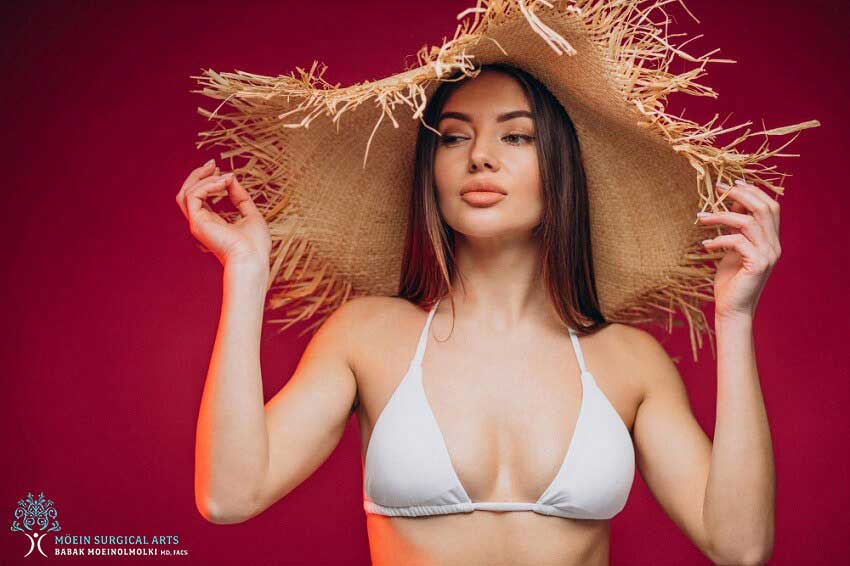 A breast reduction (reduction mammoplasty) is a procedure aimed at removing excess fat, skin, and glandular tissue to make the breasts more proportional to the rest of the body. In many cases, a breast reduction can alleviate the discomfort that comes with carrying around such heavy breasts. If you have back pain, neck pain, and/or emotional distress on account of your overly large breasts, you might find your quality of life drastically improves following the breast reduction procedure.
Read our article: Can Breast Reduction Surgery Ease Back Pain?
During the breast reduction procedure, the surgeon uses liposuction to remove excess fatty tissue from both breasts. The cosmetic surgeon then uses a technique referred to as the vertical or "lollipop" that is ideal for correcting visible sagging. The method involves incisions that go around the areola and down to the crease beneath the breast, whereby excess tissue and fat are removed before the breast is lifted and reshaped.
inverted-T
Another technique the cosmetic surgeon may use is the inverted-T or anchor. This method involves incisions around the edges of the areola to the breast crease and along the crease underneath the breast. This type of breast reduction surgery is suitable for reducing excessive sagginess, unevenness, and larger reductions.
Drainage tubes are usually added before the incisions are stitched up, then the breasts are wrapped in surgical gauze. The surgeon may ask you to wear a surgical bra while your breasts are healing following a breast reduction surgery.
It can take a couple of weeks to heal from a breast reduction, and you should expect to take at least a week off from work or school. You should be able to return to your normal routine, including physical activity, after around a month.
A breast reduction can cost between $7,700 and $9,700. The good news is that insurance will usually cover some or all of the costs of a breast reduction, especially if pain and a diminished quality of life have driven you to the cosmetic surgeon's office in the first place.
Inverted Nipple Correction
Nipple inversion can affect one or both breasts. It usually occurs during puberty, although the breast irregularity can also happen as a result of breastfeeding, an infection, or following previous breast surgery.
Inverted nipple correction, also referred to as inverted nipple repair, is a minimally invasive surgery that can be combined with other procedures like breast augmentation or breast lift.
During the procedure, the cosmetic surgeon releases the fibrous strands underneath the skin that are effectively pulling the nipple inward. The surgery uses dissolving sutures that hold the newly formed nipple in the desired position. The surgeon only uses one incision, which is small, with the resulting scarring nearly invisible once healed.
The aftereffects of inverted nipple correction surgery are immediately noticeable, though the surgeon will ask you to wear protective devices for a couple of days after the procedure to hold the nipple in place and aid with healing. The sutures dissolve on their own within two weeks.
The surgery to correct the nipples costs around $2,000 for both sides.
Mommy Makeover Surgery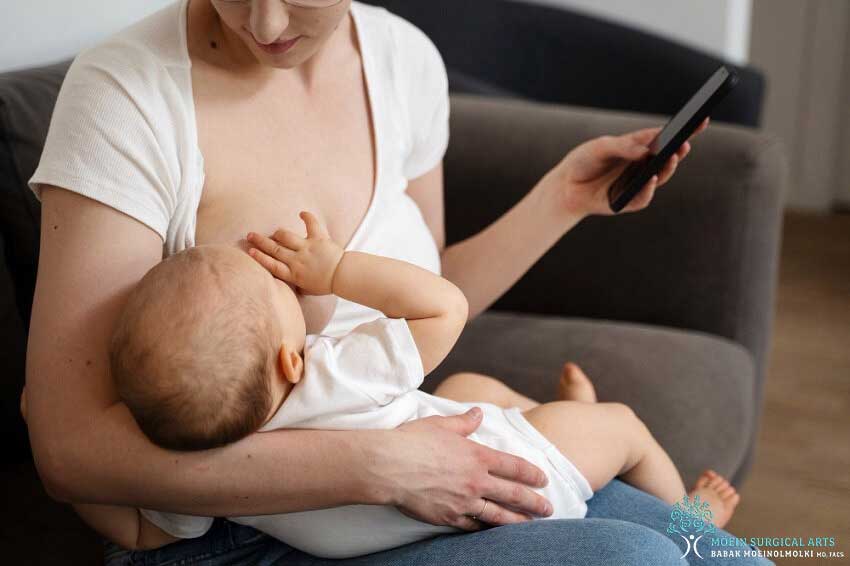 For mothers that are done breastfeeding and having more children, it is possible to combine breast cosmetic surgery with other aesthetic techniques like tummy tuck surgery, butt lift (with butt implants), and thigh lift, just to give some examples. The all-in-one surgical procedure allows you to correct multiple areas of your body along with your breasts.
Read our article: Tummy Tuck Surgery Provides 10 Life Benefits
Read our article: Belly Fat Buster – Tummy Tuck or Liposuction?
Depending on the number of procedures involved, a mommy makeover can cost between $9,000 and $20,000. And since you are only undergoing one session, you only need to recover once to completely transform your body.
Read our article: Will Insurance Cover a Mommy Makeover/Daddy Do-Over?
Are You a Candidate for a Breast Procedure?
If you are in good health, close to your ideal body weight, have realistic expectations for what cosmetic surgery can do, and want to increase the size, shape, and/or position of your breasts, one of these amazing techniques could be right for you.
To find out, sit down for a discreet consultation with one of the best Los Angeles cosmetic surgeons by calling or visiting Moein Surgical Arts.
Read our article: Tips for Scheduling Your First Cosmetic Procedure with a Cosmetic Surgeon
By meeting with Dr. Moein, you can discuss your body contouring goals, learn more about the various breast surgeries available, and talk about fees, insurance, financing, potential complications, and the amazing benefits of what cosmetic surgery can do for you. Get started by dialing (310)694-4486.