Are you dealing with stubborn sagging skin on your arms, or stubborn fat in your triceps area? Sometimes, this type of excess fat and skin laxity cannot be corrected through exercise or diet. When this is the case, an arm lift may be an excellent option. An arm lift is a surgical procedure that removes fat and tightens excess skin, resulting in a smoother, firmer contour.
Dr. Moein offers the leading arm lift procedure at Moein Surgical Arts. Dr. Moein utilizes the most advanced techniques and technology to perform all procedures at Moein Surgical Arts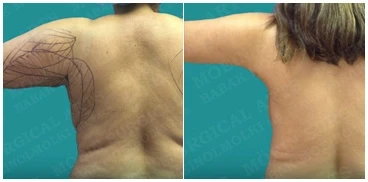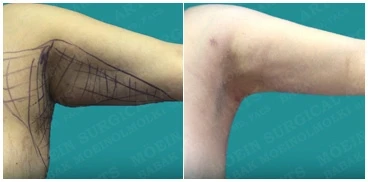 MORE ARM LIFT & ARM LIPOSUCTION EXAMPLES:
Please contact us online or call our office at 310-694-4486 to schedule your consultation with Dr. Moein. During your consultation, Dr. Moein will discuss your trouble areas and goals to help you decide which arm lift option may be the best choice for you.
As with any body contouring procedure, an arm lift needs to be performed with care and precision in order to achieve a smooth, natural look and feel. At Moein Surgical Arts, we use advanced surgical techniques to deliver high-quality results to everyone who walks through the door.
Dr. Babak Moein is double board-certified in cosmetic surgery and general surgery. He is the only cosmetic surgeon in Southern California who is dual fellowship trained in minimally invasive surgery and cosmetic aesthetic body contouring surgery.
Dr. Moein has years of experience providing excellent body contouring results to men and women in Los Angeles and beyond and is dedicated to providing individualized results, custom-tailored to fit your unique needs and goals.
Dr. Moein's skilled team is committed to providing the highest quality care to each and every one of our patients here at Moein Surgical Arts.
If you are considering your arm lift options and would like more information as to how surgery can help you meet your specific goals, please contact us to schedule a consultation. Our friendly, knowledgeable team is here to help and answer any questions that you may have.
An arm lift, also known as brachioplasty, is performed to improve the contour of the arm by removing stubborn fat deposits and tightening loose skin. There are many causes of so-called "batwings," or loose, hanging skin on the upper arms. Genetics and aging can play a significant role in skin laxity. As we age, for instance, the number of collagen and elastin proteins in our skin diminishes, leaving the skin more susceptible to sagging.
Significant weight loss is another common cause of batwings. When you achieve a large weight loss goal, you may be left with loose skin that is unable to snap back into place and will need to be addressed through a surgical procedure such as an arm lift. The arm lift procedure can help you to reach your desired aesthetic and gain a new sense of self-confidence.
Other body contouring procedures that you might consider following massive weight loss include a body lift, tummy tuck, and breast lift.

To find out more about DR BABAK MOEIN. We advise you to request a consultation online. If you prefer, you are more than welcome to call our office
to schedule your appointment.

Nearly anyone who struggles with excess skin and/or fat in their upper arms could be a good candidate for an arm lift. The ideal candidate should:
Be in good overall health.
Have realistic expectations for this procedure.
Be at or close to their weight loss goals.
Dr. Moein meets with each patient for a comprehensive consultation to determine how to best meet their body goals. After a physical examination, health evaluation, and discussion of your body sculpting goals, Dr. Moein creates a personalized treatment plan to support your individual goals.
The arm lift procedure is performed as an outpatient procedure at Moein Surgical Arts. General anesthesia will be used to prepare you for the procedure. An incision will be made to carefully remove the excess skin. The size and placement of the incision will vary based on Dr. Moein's expertise and the patient's goals for the procedure. The arm lift procedure is most commonly combined with liposuction to remove unwanted arm fat. This procedure can be performed alone or combined with other procedures to achieve the patient's desired look.
HOW TO PREPARE FOR YOUR ARM LIFT
Dr. Moein will give you instructions on how to prepare for your arm lift surgery. You will be given a care plan that may include blood tests, medication adjustments, and medications (such as aspirin, ibuprofen, and Motrin) to refrain from. All patients are required to quit smoking at least four weeks prior to surgery. Smoking impairs wound healing and thus smoking cessation is required for optimal results. Dr. Moein is happy to support patients with smoking cessation resources.
Before your surgery, Dr. Moein will prepare and discuss a pain management plan that fits your needs. Depending on your pain tolerance and pain medication history, you may only need over-the-counter medication to keep you comfortable during recovery. However, many of our patients choose a combination of prescription and over-the-counter medications.
Make sure that you arrange transportation to and from surgery as you will not be able to drive yourself, and do not eat or drink anything the evening before your procedure.
YOUR ARM LIFT RECOVERY & RESULTS
Following your arm lift, you will be asked to stay in the surgical center for a specified amount of time to ensure a comfortable recovery. You may experience a period of bruising, swelling, and tenderness following your procedure. Dr. Moein will provide you with detailed recovery instructions for a safe, confident, and successful recovery. Typically only a single post-operative appointment is needed to evaluate your progress. During your follow-up appointment, you are encouraged to voice any questions or concerns you may have about the arm lift procedure.
Most people plan to take 1 to 2 weeks off work to recover from their arm lift. Paired with a healthy diet and exercise plan, you can expect your arm lift results to be long-lasting.
How Long Does it Take to Recover from an Arm Lift?
AVERAGE COST OF AN ARM LIFT
According to 2018 data from the American Society of Plastic Surgeons, the average invisible arm lift surgery cost is $4,482, not including anesthesia and other related costs. Talk to Dr. Moein about your financing options during your consultation to help make your procedure as affordable as possible. Dr. Moein takes special care to ensure patients know the entire procedure cost (including the post-operative visit) up front and that patients do not incur any unexpected expenses. An extended arm lift may cost more than a simple upper arm lift or lower arm lift.
To learn more about your arm lift options, request a consultation online today. You are welcome to call our office to schedule your appointment at 310-694-4486.
What should I expect during my arm lift consultation?
During your consultation, Dr. Moein will perform a physical examination and discuss your goals, surgical techniques, any existing medical conditions you may have, and what you can do to prepare for your arm lift should you decide to move forward with this procedure. Your arm lift consultation is a great time to ask questions and get to know Dr. Moein.
Are arm lifts painful?
Your arm lift will be performed under general anesthesia, so you should not feel any pain during the procedure. Afterward, you may feel discomfort or tenderness, but these symptoms can be addressed with prescribed pain medications.
Will my arm lift leave a scar?
Arm lifts require an incision on the inner part of your arm so that they will result in a scar. Dr. Moein takes great care to place your incisions as inconspicuously as possible. For many people, arm lift scars fade over time and become much less noticeable.
Nonsurgical arm lifts do not involve an incision or leave a scar, but they won't yield as complete results as a surgical procedure.