Time is a relentless force that stops for nothing — especially not our fears about aging. As time passes, the quality of our skin inevitably diminishes and decreases in elasticity. On the face, the loss of elasticity can be seen as sagging develops, appearing as folds, loss of volume, and wrinkling.
These signs of aging can leave you staring in the mirror at a reflection that looks far older than you feel, which can damage and undermine your self-confidence. A facelift is a classic tool and still one of the best methods to turn back the clock on your appearance.
If you're considering a facelift, your first step is to schedule a consultation with Dr. Babak Moein of Moein Surgical Arts to discuss your goals, whether or not you're an ideal candidate, your unique facelift procedure and the results you can expect to obtain from a facelift.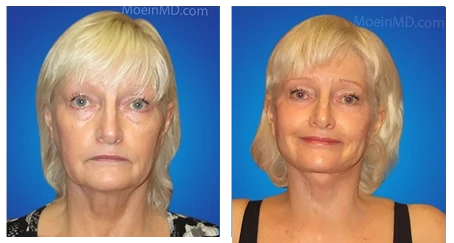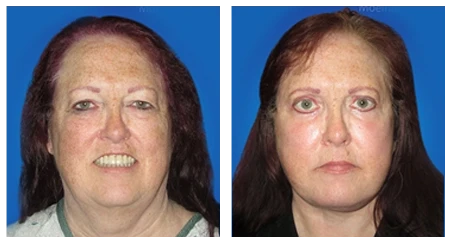 WHY CHOOSE MOEIN SURGICAL ARTS?
Babak Moein is a board-certified cosmetic surgeon who holds a dual fellowship, training in both minimally invasive surgery as well as cosmetic aesthetic and body contouring surgery — the only surgeon in Southern California with these robust qualifications.
Moein's unique experience and accolades allow him to bring his passion for the science behind human beauty to every one of his clients, helping to achieve a balanced, natural look from your surgery. His specialties in cosmetic surgery and skin rejuvenation procedures help him to determine the best course of action to help you meet your beauty goals.
To learn more about Dr. Moein's balanced philosophy and distinguished credentials — and to take your first step toward achieving your ideal look — schedule a consultation online or by calling 310-299-9106.
CANDIDATES FOR FACELIFT SURGERY
The ideal candidates for facelift surgery are men and women with a keen interest in improving some of the advanced signs of aging and regaining a youthful appearance. Facelift surgery can help to treat some of the more obvious signs of aging, such as sagging, bagginess, gauntness, and the dreaded facial jowls. Because the hands of time affect every person differently, there's no ideal age for a facelift. Timing is entirely dependent on your appearance, your needs, and your goals.
Depending on your aesthetic goals, Dr. Moein may suggest combining your facelift with other procedures to achieve the greatest results. This may include facial transplants, fat transfers, dermal injections, tissue augmentation, and skin resurfacing to optimally tackle visible signs of aging.
The best candidates for facelift surgery are people in generally good health. They're non-smokers and individuals with realistic expectations for the outcome of their surgery. During your one-on-one consultation, Dr. Moein will discuss what you can expect from your facelift surgery and your final results.

To find out more about DR BABAK MOEIN. We advise you to request a consultation online. If you prefer, you are more than welcome to call our office
to schedule your appointment.

While the facelift, also known as the rhytidectomy, is a popular cosmetic procedure that has been around for decades, it has sustained constant evolution and advancement. The basic technique involves surgery that aims to lift sagging facial skin and tightens the skin of the face in order to deal with the signs of aging, such as gaunt cheeks, jowls around the cheeks, sagging under the chin and bagginess around the nasolabial region, where laugh lines can appear over time.
During your initial consultation with Dr. Moein, you'll discuss your concerns and goals. From there, he can help you determine which type of facelift surgery is right for you and whether or not combining it with other procedures would produce the best result.
The facelift procedure will be performed with general or local anesthesia to ensure your comfort. Depending on the technique, which you will discuss during your consultation with Dr. Moein, your incisions will typically be made along the hairline and around the earlobes and temples. The location of these incisions allows for excess skin to be removed and the remaining skin to be pulled taut, creating a lifted, youthful appearance with minimal visible scarring. Facelifts are generally performed as an outpatient procedure, so plan on someone driving you to and from your surgery.
FACELIFT RECOVERY & RESULTS
Immediately after your facelift surgery, you may notice slight or significant swelling and bruising. Over the following days and weeks, the swelling subsides, and you will be able to resume your normal activities. During the first few days of your recovery, you may find it helpful to take medication to help with discomfort. You should also be sure to take any medication prescribed by Dr. Moein.
It's important during your recovery period that you follow all of Dr. Moein's instructions and keep all post-op appointments. During these appointments, he will evaluate your healing, determine when is the right time to remove your sutures, and decide when to clear you to return to your normal activities. Many people feel ready to go back to work after their second week of recovery.
During the recovery period, the final results of the procedure will emerge as swelling subsides and scarring is hidden by the natural hairline. It can take up to 1 year for the last of the minor swelling, bruising, and tightness to completely subside and reveal the completed transformation.
AVERAGE COST OF FACELIFT SURGERY
The complexity of facelift surgery can vary significantly. As a result, the cost has a wide variation as well. Facelifts can cost between $15,000 to $25,000 or more. If you only need a mini facelift, that procedure typically is around $9,000.
Dr. Moein and his team at Moein Surgical Arts can help you discuss your financial options. We take special care to ensure patients know the entire cost of the procedure (including the post-operative visit) up front and that patients do not incur any unexpected expenses.
Dr. Moein tailors each procedure to meet the needs and goals of each patient. Take the first step toward reclaiming a more youthful-looking face by scheduling a consultation with Dr. Moein. To schedule your consultation, contact us online or over the phone at 310-299-9106