LIPOSUCTION IN LOS ANGELES
Redefine Beautiful With Precision, Safety And The Wow Factor!
This is for the discerning people seeking Liposuction Los Angeles and Southern California. Transform and sculpt your body with high-definition liposuction. Offered for those who demand the best.
Precision & Artistry

: Our method can remove more fat. Choose unparalleled precision, reduced pain, and minimal scarring.

Elite Expertise

: Entrust your transformation to our triple-board-certified surgeons. Each is a master with years of experience in delivering impeccable results.
Rapid Healing, Lasting Impact: Our protocols ensure a quick recovery and a near-painless experience

. We enjoy the testimonies of our 5-star Yelp and Google ratings.

Affordable Elegance: Experience Hollywood glamour at fair prices. Our financing options bring your dreams within reach.
Comprehensive Care: From your initial consultation to a year after the procedure. You enjoy our extensive pre and post-surgical support. Ensuring that your results stand the test of time.
Choose the best for your body | Choose unparalleled beauty and safety | It will be our secret
Get Your Free Consultation
Plus, Grab Early Bird Discounts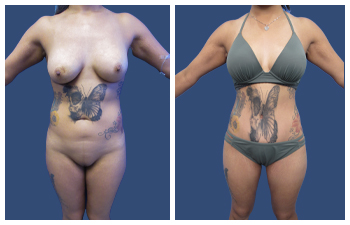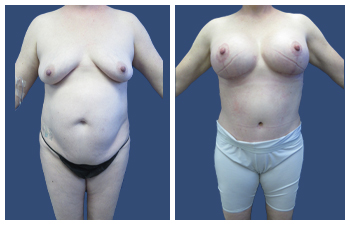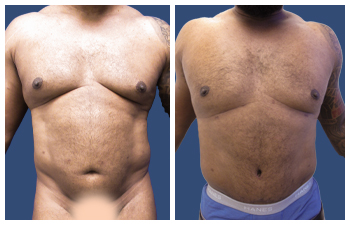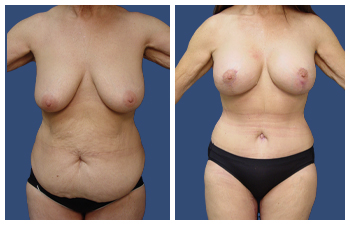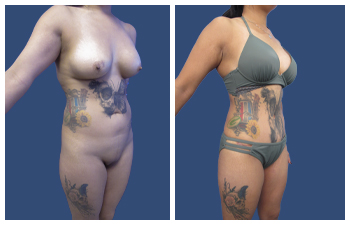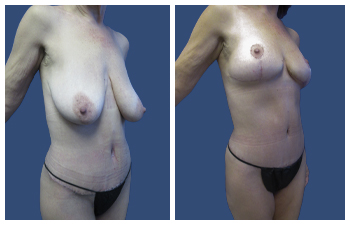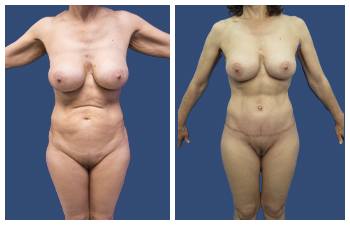 Our Process For Your Transformation

What To Expect During Your Free Consultation
Before your liposuction procedure, you will have a one-on-one consultation to discuss the best course of action for your cosmetic needs. Dr. Moein will go over your health history, discuss your concerns, and consider the following to design your procedure plan:

How much fat should be extracted?
How to ensure and maximize your comfort?
What is the best approach to achieving your aesthetic goals?
The best way to ensure optimal results toward your body goals is to consult with a highly trained and extensively experienced professional like Dr. Babak Moein.
Liposuction Los Angeles Services We Provide
At Moein Surgical Arts, we understand that achieving a sculpted, defined physique is a personal journey that may sometimes require expert assistance. That's where our state-of-the-art liposuction services come into play. From the delicate regions of the chin and neck to the more substantial areas like the stomach, arms, thighs, love handles, and back, our comprehensive liposuction techniques cater to various individual needs. Each procedure is tailored to the client's unique body contours and goals, ensuring optimal natural and harmonious results.
An especially noteworthy aspect of our clinic's commitment to excellence is the expertise of Doctor Moein. As a board-certified surgeon with a distinguished second certification in cosmetic surgery, Dr. Moein embodies the pinnacle of skill and dedication in body sculpting. His deep understanding and extensive experience with liposuction not only ensure the best outcomes but position him as a leader in the cosmetic surgery community. When you entrust your transformation to Dr. Moein, you're placing your trust in one of the industry's best. His qualifications testify to our clinic's dedication to excellence. With a deep-rooted commitment to patient satisfaction and safety, we invite you to experience the difference that comes with choosing a leading professional in aesthetic medicine. At Moein Surgical Arts, we don't just sculpt bodies; we craft confidence.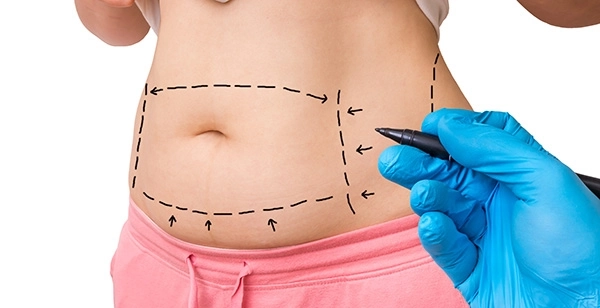 Stomach liposuction remains one of the most sought-after procedures, and for good reason. This area often accumulates fat that can be resistant to diet and exercise. Achieving a flatter, more contoured midsection is not just about removing fat but also sculpting and reshaping to complement the entire body's structure. Dr. Moein's profound expertise becomes particularly invaluable in such cases. With his dual certifications, he comprehensively understands the body's anatomy and the aesthetic principles of proportion and symmetry.
What sets Dr. Moein apart in stomach liposuction is his meticulous approach. He doesn't just remove fat; he sculpts the abdomen to enhance its natural contours, achieving results that look and feel organic rather than 'worked-on.' His deep knowledge ensures that he removes the appropriate amount of fat, preventing any unevenness or irregularities that can occur with less experienced hands. Furthermore, with his extensive background in general and cosmetic surgery, he's adept at anticipating and minimizing potential complications, ensuring aesthetic results, and prioritizing patient health and safety.
Opting for stomach liposuction with Dr. Moein means benefiting from a surgeon who sees beyond the procedure. His approach to stomach liposuction is comprehensive, considering the individual's entire body frame, lifestyle, and long-term goals. This dedication and personalized care, combined with his undeniable expertise, make Dr. Moein an ideal choice for those seeking transformative results in stomach liposuction.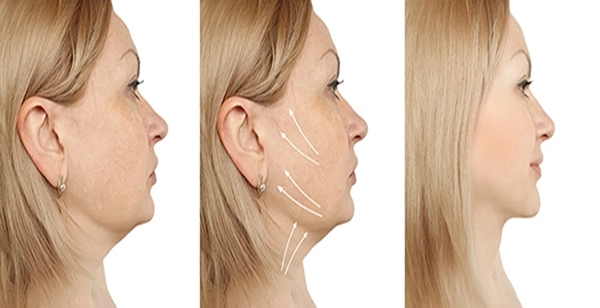 Chin and neck liposuction is a transformative procedure that targets one of our anatomy's most noticeable and defining areas: the facial profile. As we age or experience weight fluctuations, the chin and neck region can accumulate fat deposits, leading to a double chin or a less-defined jawline.
These changes can distort one's natural features and affect self-confidence. However, chin and neck liposuction offers an effective solution, meticulously removing these unwanted fat deposits and rejuvenating the appearance. When performed precisely, this procedure can unveil a more sculpted, youthful jawline and neck, harmonizing the facial features and restoring confidence. Given the visibility and sensitivity of the area, what makes this procedure unique is the necessity for a delicate touch.
An experienced hand ensures efficient fat removal and the avoidance of over-correction, which can lead to an unnatural appearance. The goal is to achieve a result that feels authentic to the individual – enhancing their innate beauty rather than altering it. With the subtleties involved in this region, it's imperative to trust a skilled professional who understands both the functional and aesthetic intricacies of the chin and neck. Through a combination of skill, artistry, and meticulous attention to detail, the right practitioner can deliver transformative and natural results.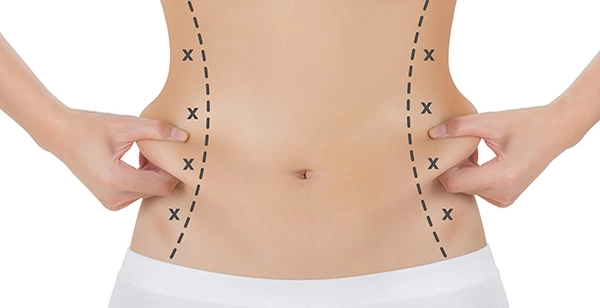 Love handle liposuction addresses one of the most common and often frustrating areas of fat accumulation for both men and women: the flanks. These stubborn fat deposits can compromise the silhouette, making the waistline appear broader and less defined, even in otherwise fit individuals. However, with love handle liposuction, it's possible to regain that coveted hourglass or V-shaped figure. Dr. Moein's prowess in liposuction, particularly in the arena of 'waist snatching,' showcases a harmonious blend of medical precision and artistic vision.
He approaches each procedure with an eye for balance and proportion, ensuring that the contouring of the love handles complements the individual's overall physique. The term 'waist snatching' aptly describes Dr. Moein's ability to sculpt the waist area with such finesse that the results are breathtaking. Under his expert hands, patients can expect a reduction in love handles and a transformation that enhances the body's natural curves, creating a seamlessly sculpted and enviable waistline. Trusting Dr. Moein with love handle liposuction means investing in an outcome that embodies elegance, symmetry, and renewed confidence.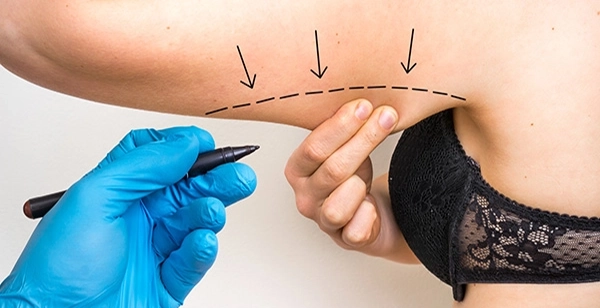 Arm liposuction is a transformative procedure for those seeking a more sculpted, toned upper body appearance. As the arms are often on display, excess fat in this area can become a source of self-consciousness for many. Beyond just removing fat, arm liposuction also carries the potential challenge of addressing skin elasticity. As we age or experience significant weight changes, the skin may lose its natural firmness, leading to sagging. While liposuction effectively targets and eliminates unwanted fat, the process might occasionally exacerbate the appearance of loose skin, especially if not performed with care. This is where the dual expertise of skin tightening and, in more pronounced cases, surgical removal of excess skin comes into play.
A competent surgeon, versed in liposuction and skin procedures, is essential for optimal results. Dr. Moein's comprehensive understanding ensures that not only is the unwanted fat expertly removed, but any resultant skin laxity is addressed, either through advanced skin tightening techniques or, if necessary, surgical excision. It's crucial to understand that the arms are a delicate balance of muscle, fat, and skin, and achieving a natural, youthful appearance post-liposuction often requires more than just fat removal. With Dr. Moein, patients can be confident in a holistic approach that considers every aspect of the arm's anatomy and aesthetics, ensuring results that are both beautiful and lasting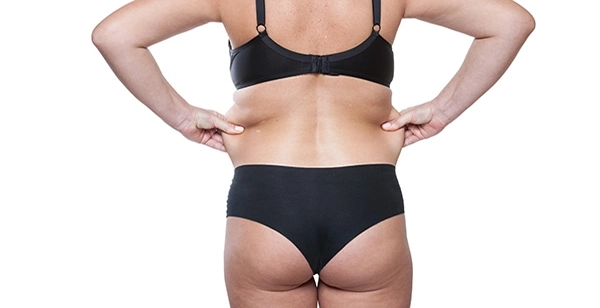 Back liposuction is an effective remedy for those who find that excess fat on the back detracts from their overall silhouette and confidence. Whether it's the result of genetics, weight fluctuations, or the natural aging process, bulges in the upper, mid, or lower back can pose challenges in clothing fit and may hinder the desired aesthetic. However, back liposuction provides an avenue for redefining this broad canvas. Expertly removing fat from this area can lead to a smoother, more contoured back profile, accentuating the natural lines of the spine and shoulder blades. One essential consideration in back liposuction is the unique characteristics of the skin and fat distribution in this area. Because the back has various muscle groups and thicker skin than other parts of the body, it requires a surgeon with a keen understanding of its anatomy.
Dr. Moein, with his vast experience and precision, ensures that fat removal is even, preventing any unsightly dimples or uneven patches. Moreover, he approaches back liposuction with an overarching vision, aiming to harmonize the newly sculpted back with the adjoining areas, be it the waist, shoulders, or hips. Undergoing back liposuction with a seasoned professional ensures that the outcome not only alleviates the burden of unwanted fat but enhances the body's overall elegance and proportion.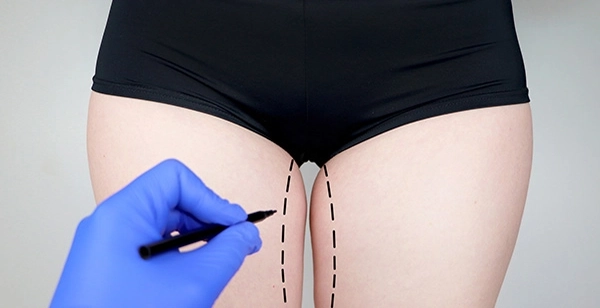 Thigh liposuction is a game-changer for individuals striving for legs that exude strength and elegance. The thighs, naturally prone to fat accumulation due to genetics or hormonal factors, can sometimes resist even the most dedicated exercise and diet regimes. This localized fat can lead to feelings of discomfort, both physically, with chafing or restricted movement, and aesthetically, by disrupting the fluid line of the legs. Thigh liposuction, when executed with finesse, can redefine the legs, creating a more balanced and contoured appearance. The procedure's beauty lies not just in reducing volume but in sculpting a silhouette that complements the natural curvature of the leg, from the hips down to the knees.
Dr. Moein's unparalleled expertise ensures that each thigh liposuction procedure is tailored to the individual. Recognizing the intrinsic differences between the inner and outer thighs, he approaches each area with a nuanced technique, aiming for symmetry and smoothness. Moreover, with their delicate skin texture, thighs benefit immensely from a surgeon who understands the balance between fat removal and maintaining skin integrity. With Dr. Moein at the helm, patients can anticipate thighs that aren't just slimmer but are artfully sculpted to enhance their overall physique and boost their confidence with every step.
Best-in-class Liposuction Techniques
Liposuction has evolved, giving rise to various techniques tailored to diverse patient needs. Tumescent liposuction, often referred to as the traditional method, involves injecting a saline solution into the target area, making the fat easier to remove. VASER liposuction employs ultrasonic waves to break down and liquefy fat cells, ensuring a more gentle and precise extraction. As the name suggests, laser liposuction utilizes laser energy to melt fat before removal. It offers the added benefit of skin tightening and the negative that the fat cannot be transplanted for a BBL of natural breast augmentation. Lastly, awake liposuction with local anesthesia allows patients to remain conscious during the procedure, enabling real-time feedback and potentially aiding in achieving more accurate results. Each technique's unique approach is designed to optimize outcomes and enhance the liposuction experience.  Dr. Moein uses all of these techniques, choosing appropriately for every client.
At Moein Surgical Arts, our longstanding dedication to the art and science of body sculpting is epitomized in our expertise with tumescent liposuction. Recognized as a cornerstone in the world of aesthetic enhancements, tumescent liposuction requires a blend of technical proficiency and artistic vision. Our seasoned team, underpinned by years of hands-on experience, has mastered this traditional method, ensuring a safe and effective approach. By infusing the targeted area with a specialized saline solution, we meticulously prepare the fat for removal, ensuring minimal discomfort and reduced post-operative swelling for our patients. Our deep-rooted experience with this technique has allowed us to refine our procedures over the years, producing consistently harmonious results that speak to the body's natural contours. When you choose [Your Clinic Name] for tumescent liposuction, you're not just opting for a procedure; you're entrusting your transformation to a legacy of excellence and a commitment to individualized care.
Awake liposuction has revolutionized the landscape of body contouring, offering a compelling alternative for those hesitant about undergoing general anesthesia. One of the most significant benefits is the heightened sense of safety; without the potential risks associated with general anesthesia, the procedure becomes more accessible to a broader range of patients. Moreover, being conscious during the process provides a unique advantage: real-time feedback. Patients can communicate with the surgeon, allowing for adjustments to be made during the procedure and ensuring a more tailored result that aligns with the individual's vision. Dr. Moein calls this the "mirror test". The post-operative period is often smoother, with patients experiencing quicker recovery times, reduced grogginess, and a minimized risk of post-anesthesia side effects. Furthermore, the cost can often be less prohibitive as the expenses associated with anesthesia are eliminated. At its core, awake liposuction merges medical innovation with patient empowerment, granting individuals greater control and peace of mind during their aesthetic journey.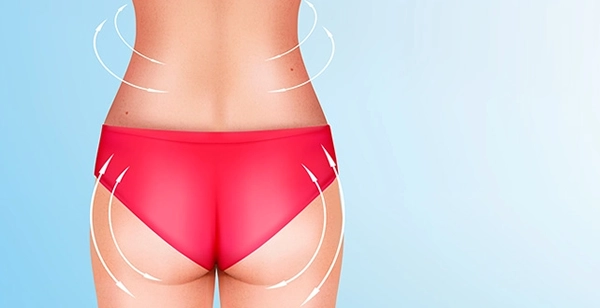 VASER liposuction is a testament to the advancements in aesthetic medicine, offering precise fat removal with less trauma to the surrounding tissues. VASER technology uses ultrasonic waves to liquefy targeted fat cells while preserving vital structures like blood vessels, nerves, and connective tissue. This meticulous approach requires a specialized set of skills and in-depth knowledge of the technology. The training for VASER liposuction goes beyond traditional liposuction techniques. Surgeons must understand the nuanced interplay between the ultrasonic waves and human anatomy, ensuring fat removal that is both effective and safe.  VASER also makes high-definition liposuction possible and affordable.
Additionally, the expertise to sculpt the body using VASER requires an artistic touch, balancing the technological prowess with a vision for the body's natural aesthetics. The results possible with VASER can be remarkably refined and smooth, but achieving such outcomes hinges on the surgeon's comprehensive training and dedicated experience. Opting for a practitioner well-versed in VASER technology ensures a harmonious blend of cutting-edge technique and timeless artistry in body contouring.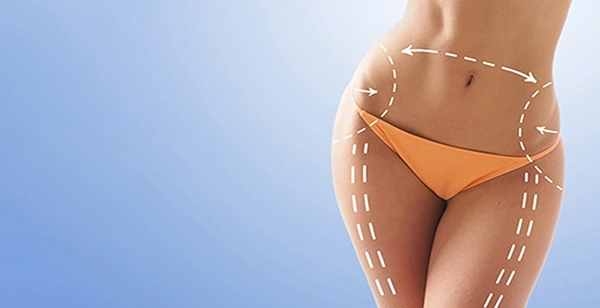 Laser liposuction represents a fusion of technological advancement with traditional body sculpting techniques. This method goes beyond merely extracting fat by harnessing the power of targeted laser energy. The laser works at a cellular level, breaking up the fat cells and rendering them nonviable for future use, especially in transplantation procedures. This is a distinctive feature that sets laser liposuction apart. At the same time, other techniques might allow for the harvested fat to be used in augmentative procedures like fat grafting; the laser's intense heat ensures that these cells are permanently disrupted. Beyond this, the laser also promotes collagen production in the treated area, potentially leading to improved skin tightening and a smoother post-procedure appearance. However, the precision required in laser liposuction, from ensuring even fat breakdown to preventing excessive heat damage, necessitates a surgeon with specialized training and a profound understanding of the technology and the human anatomy. In the hands of a skilled practitioner, laser liposuction can offer transformative results that combine efficient fat reduction with enhanced skin quality.
🌟 Ultimate Liposuction Transformation Package! 🌟
Liposuction at 30% OFF: Get the body you've always dreamed of at an unbelievable price.
FREE Comprehensive Consultation: Sit down with our board-certified surgeons to discuss your goals and get expert advice tailored just for you ($250 value).
FREE Post-Surgery Care Kit: Everything you need for a swift and comfortable recovery: Compression garments, medical-grade scar creams, and more ($150 value).
Three FREE Post-Surgery Massage Sessions: Improve circulation, speed up recovery, and enjoy some relaxation on us! ($300 value).
Guaranteed Satisfaction: We stand behind our results. We'll offer a complimentary touch-up procedure if you're not 100% satisfied.
Flexible Financing Options: Get the body you desire now, and pay comfortably over time. 0% interest for the first six months.
Loyalty Rewards Program: After your transformation, get exclusive discounts on other treatments and services for being part of our family.
Priority Scheduling: Book your procedure on a date that works for you, guaranteed.
Early Bird Bonus: The first 50 patients will receive a $1,000 bonus discount if they schedule surgery within 48 hours of their free consultation.
Book Your Free Consultation
Grab Your First Fifty Discount
---
Why Choose Us As Your Surgery Medical Practitioner?
Board-certified surgeons with over 20 years of combined experience.
State-of-the-art facilities with the latest equipment and safety protocols.
Thousands of satisfied patients - check out our testimonials and before-after photos!
Offer limited to the first 50 bookings. Take advantage of this exclusive transformation package. Reserve your spot now!
---
Fine Print: The guarantee is subject to certain terms and conditions. Patient safety is our priority; all patients must be deemed medically fit for the procedure.
HOW TO PREPARE FOR YOUR LIPO PROCEDURE
Dr. Moein will give you instructions on how to prepare for your liposuction surgery. You will be given a full medical workup and care plan. Your care plan may include blood tests, medication adjustments, and medications to refrain from taking.
Dr. Moein will also discuss and prepare a pain management plan before the surgery. In this plan, he will consider your experience with pain medications, your risk factors for opioid addiction, the anticipated discomfort after surgery, and your pain tolerance and goals. Most patients choose a combination of prescription and over-the-counter pain medication, though many find over-the-counter medications alone sufficient. Non-steroidal anti-inflammatory medication such as Aspirin, Motrin, Ibuprofen, or other blood thinners should be avoided during this time.
All patients must stop smoking at least four weeks before having liposuction. Smoking can negatively affect the healing process, thus impacting your final results. Dr. Moein offers smoking cessation resources in his clinic to help support his patients. You may be advised not to consume food or fluids after midnight the night before your surgery.  Be sure all of your questions are medically reviewed.  This is a critical part of your surgeon patient relationship.
After your liposuction procedure, you must arrange for someone to drive you to and from surgery and help you around the house for a few days while you recover.
POST-LIPO INSTRUCTIONS & RECOVERY
The body part(s) treated and the degree of fat removal will determine your recovery time. You can expect general soreness and swelling immediately after the procedure. A compression garment will be placed on your treated areas to reduce swelling. Sometimes, temporary drains may be placed along the incision areas to drain fluids. Dr. Moein will also prescribe you medications for pain management and antibiotics to prevent infection. Please make sure to follow all of your post-operative instructions very carefully to optimize healing. After assessing your status, Dr. Moein will give you a timetable for recovery before you can return to your normal physical activities.
The time you will spend in the surgical facility following liposuction will depend on the anesthesia used. Local anesthesia allows patients to return home about 30 minutes after the procedure, whereas general anesthesia will require a 1-3 hour observation period in the facility. Downtime with tumescent liposuction tends to be about two days, with the ability to return to physical activity not long after.
Check Out Our Liposuction FAQs
While liposuction has greatly increased in popularity over the last few years, great results are only sometimes
guaranteed. You'll need to visit a surgeon well-practiced in the procedure for great liposuction results.
Dr. Babak Moein of Moein Surgical Arts has many years of liposuction experience and will always be transparent about what results you should expect, taking pride in his ability to give you the best possible liposuction outcome.
Dr. Babak Moein has many years of experience helping men and women achieve their body goals. From weight loss to body sculpting, his dual fellowship in surgery and cosmetic procedures allows him to offer the most well-rounded experience to all his patients. Alongside his highly trained teams, Dr. Moein has helped thousands of people in the Los Angeles area and beyond create the body they've always dreamed of. With his board certification in comprehensive cosmetic surgery and general surgery, he has the expertise and the experience to help anyone with a wide range of cosmetic or health issues.
Liposuction is often considered a weight loss tool, but this is inaccurate. Liposuction is a final touch to getting you the body you've always dreamt of, but it should not be utilized as an advanced weight loss method for the obese or as a treatment for cellulite. Liposuction is the cherry on top of reaching your final body goals when combined with other cosmetic procedures to address these specific concerns.
Lipo is instead reserved for those who need a bit of extra help shedding troublesome pockets of fat. A balanced and nutritious diet, regular exercise, and an overall healthy lifestyle are key when you have aesthetic goals like a leaner or slimmer body. However, sometimes diet and exercise alone cannot eliminate those pockets of fat that don't seem to budge no matter how hard you work. If this describes you, Dr. Moein would like to discuss the possibilities of liposuction treatment.
Ideal candidates to have lipo share the following traits and characteristics:
Are in good general health.
Are looking to lose fat in stubborn areas unresponsive to diet and exercise alone.
We recommend you are within at least 30% of your ideal weight before we perform the liposuction treatment.
We recommend that you have a wellness plan to maintain your new figure and keep the fat from returning.
Liposuction can help men and women achieve a multitude of different goals. Liposuction can be an excellent choice to address excess fat deposits, disproportionate body measurements or look better in your clothing. No matter your goals, it is important to maintain realistic expectations. Liposuction is not a weight loss solution and will not address loose or sagging skin. If excess skin around your midsection is a concern, Dr. Moein may suggest combing in liposuction with a tummy or mini tuck.
Today, the average liposuction cost ranges between $ 4,000 and $15,000 based on the areas treated and the type of anesthesia used. You should consult with Dr. Moein and his team about various financing options, including any additional expenses you could incur to ensure you're financially prepared for a liposuction procedure. Many financing options are available to patients, and the team at Healthy Life Bariatrics is well-versed in the best ways you can pay for liposuction. Don't be afraid to ask about the payment schedule and cost of any follow-up appointments so you're sure to cover your bases.
To find out more about Dr. Babak Moein, we advise you to request a consultation online. If you prefer, you are more than welcome to call our office to schedule your appointment.
As with most cosmetic procedures, liposuction recovery and results vary from person to person. You should notice a slimmer look right away, but due to residual swelling, it may take a few months up to a year to see your complete results.
Your new shape will be revealed once the bulk of your swelling is gone. Fat cells do not grow back once removed, but that does not mean you can not gain weight. The remaining fat cells can continue growing and change your body's contours. That is why it is essential to maintain a healthy diet and exercise regimen to continue to enjoy your results long-term.
Because of Dr. Moein's background in minimally invasive surgery and the small cannulas used during your liposuction procedure, there is little visible scarring involved. Dr. Moein uses advanced techniques and technologies and discreet locations on the body to help mask any sign of surgery.
There is always some risk involved in an invasive surgical procedure such as liposuction. However, most high-risk complications stem from an inexperienced and unqualified professional performing the procedure. Infection, bleeding, and nerve injury can occur but are rare. Seeking a qualified cosmetic surgeon like Dr. Moein, who specializes in body contouring techniques, and following his pre-and post-op guidelines will help significantly reduce your risks.
Your discomfort level will vary depending on the type of liposuction you have and the anesthesia used. The most soreness is typically experienced 2 to 4 days after the lipo procedure. Tenderness and discomfort usually last between 3 to 4 weeks but should gradually diminish over the next few weeks. Your comfort can be optimized by following the pain management plan established before your procedure to ensure they are ready for discomfort management.
Elastic compression garments are beneficial after your lipo procedure because they reduce bruising and swelling after surgery. This means better recovery and even better results. Dr. Moein recommends wearing your compression garment for at least four weeks while your body recovers and swelling diminishes.
Enjoy Our Liposuction Video Selection