WHAT IS A RHINOPLASTY PROCEDURE?
A rhinoplasty procedure can improve the overall appearance, facial symmetry, and functionality of the nose. Rhinoplasty procedures can be performed alone or combined with other procedures. Dr. Moein offers the leading rhinoplasty procedure for his patients at Moein Surgical Arts. According to the American Society of Plastic Surgeons, the rhinoplasty procedure was the third most popular plastic surgery performed in 2017.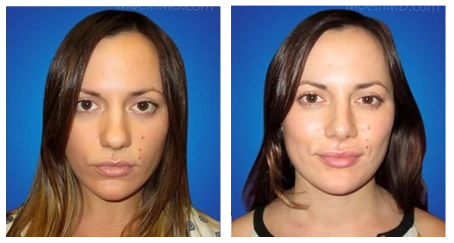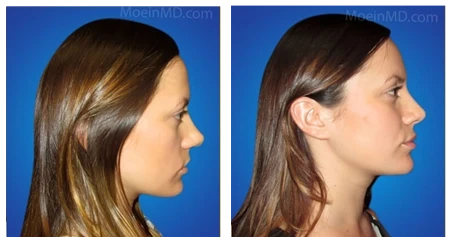 MORE RHINOPLASTY EXAMPLES:
AM I A CANDIDATE FOR A RHINOPLASTY PROCEDURE?
Candidates should be in good overall health and have realistic expectations for this procedure. Dr. Moein will meet with each patient one-on-one for a comprehensive consultation. Dr. Moein will perform a thorough facial exam to determine the patient's candidacy for the procedure. Patients can discuss their concerns, questions, and desired aesthetics with Dr. Moein during this consultation appointment. Dr. Moein will customize a personalized rhinoplasty treatment plan for the patient based on his expertise and their desired aesthetic. Dr. Moein strives to remain a constant resource for patients throughout their entire care at Moein Surgical Arts.

To find out more about DR BABAK MOEIN. We advise you to request a consultation online. If you prefer, you are more than welcome to call our office
to schedule your appointment.

TYPES OF RHINOPLASTY PROCEDURES
Open Rhinoplasty
An open rhinoplasty is used to reshape the nose and improve the overall facial appearance.
Closed Rhinoplasty
A closed rhinoplasty, also known as endonasal rhinoplasty, is performed for all minor reshaping within the nasal cavity.
Septoplasty
Septoplasty is a surgical procedure performed to fix a deviated septum and alleviate the nasal way.
Non-Surgical Rhinoplasty
Non-surgical rhinoplasty utilizes injectable fillers to reshape the nose and improve facial symmetry.
Revision Rhinoplasty
Revision rhinoplasty is performed to correct past rhinoplasty procedures.
Rhinoplasty procedures are performed as an outpatient procedures at Moein Surgical Arts. Patients should arrange a ride to and from the surgical center. After the procedure, Dr. Moein will carefully bandage, place a splint and pack in the nose to heal the new shape into place. Patients may reduce swelling and bruising by gently applying a cold compress. Symptoms will improve over time. Patients can return to work within one week of the procedure. All strenuous activities can be resumed within 3 to 4 weeks. Swelling will fully subside within six months to a year. Dr. Moein will schedule a postoperative appointment to evaluate the patient's healing process. Patients may ask any questions or concerns about the recovery process during this appointment.
Book your consultation with Dr. Moein today to find out if you are a candidate for the rhinoplasty procedure.