BREAST REDUCTION LOS ANGELES, CA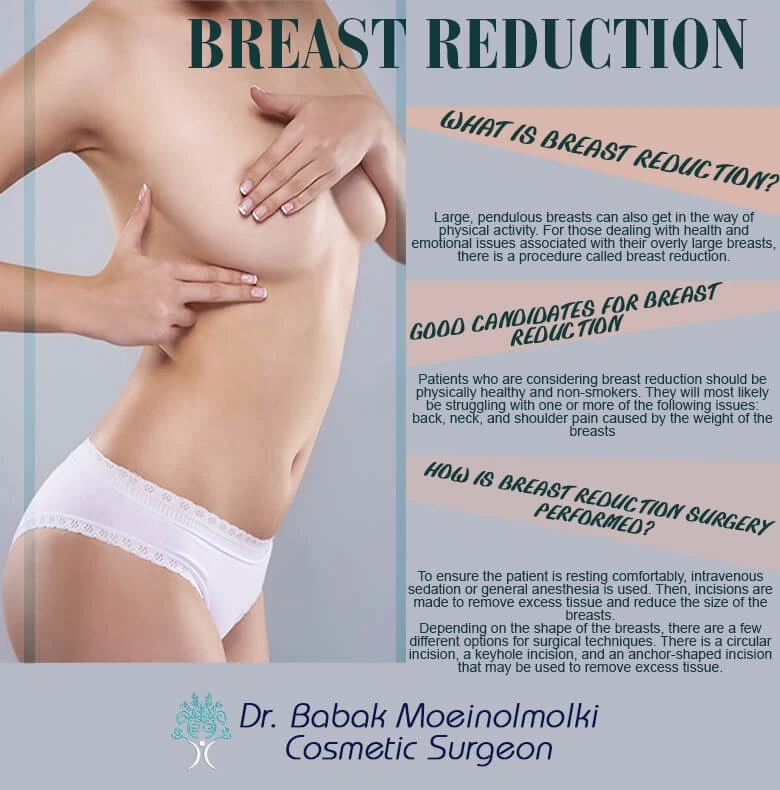 What Is Breast Reduction?
Large breasts can come with a number of health and emotional problems. From the difficulty of finding properly fitting clothing to chronic neck and back pain, overly large breasts can be problematic. Large, pendulous breasts can also get in the way of physical activity. For those dealing with health and emotional issues associated with their overly large breasts, there is a procedure called breast reduction.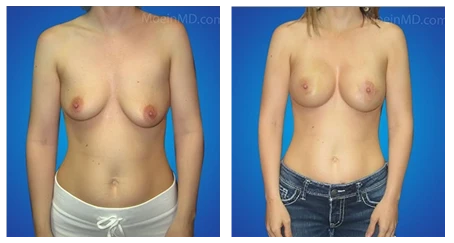 MORE VASER LIPOSUCTION EXAMPLES:

Reduction Mammaplasty in Los Angeles, CA
Also known as reduction mammaplasty, breast reduction reduces the size and weight of the breasts. If you are interested in obtaining a more proportionate and manageable bust size, then you may be a candidate for this surgical procedure.
Breast Reduction Candidates
Patients who are considering breast reduction should be physically healthy and non-smokers. They will most likely be struggling with one or more of the following issues: back, neck, and shoulder pain caused by the weight of the breasts; skin indentations due to bra straps; skin irritation under the breast creases; low-hanging breasts with stretched skin; nipples that rest below the breast crease; or enlarged areolae caused by stretched skin.
When patients have overly large breasts, they may have either macromastia or gigantomastia. Macromastia is a condition where the breasts are heavier than 500 grams each, and gigantomastia is where breasts are larger than 1,000 grams each. With these conditions, the breasts often experience extreme ptosis or sagging. Breast ptosis usually affects the area around the nipple and areola, which is called the nipple-areola complex. Breast ptosis is measured on a scale of mild to severe.
Breast Reduction Procedure Video
Breast Reduction Surgeon Consultation 
The best way to determine which options are best for your personal goals is through a consultation. During the consultation, you can discuss your aesthetic goals with the surgeon and determine which technique is right for you. You may be asked to get a medical evaluation, stop smoking well before the surgery, and get a mammogram to gain a clear picture of your breast tissue.
The surgical procedure is always tailored to the specifics of your body and your personal goals, but there are general steps. To ensure the patient is resting comfortably, intravenous sedation or general anesthesia is used. Then, incisions are made to remove excess tissue and reduce the size of the breasts.
---
Breast Reduction – Cosmetic Procedures
---
Depending on the shape of the breasts, there are a few different options for surgical techniques. There is a circular incision, a keyhole incision, and an anchor-shaped incision that may be used to remove excess tissue. After the tissue is removed, the nipple is repositioned. Overly large or stretched areolae may also be reshaped during this phase.
WHAT IS LIPOSUCTION?
Liposuction is often thought of as a weight loss tool but this is inaccurate. Liposuction is a final touch to getting you the body you've always dreamt of but should not be utilized as an advanced weight loss method for the obese or as a treatment for cellulite. When combined with other cosmetic procedures to address these specific concerns, liposuction is the cherry on top of reaching your final body goals.
Lipo is instead reserved for those who need a bit of extra help shedding troublesome pockets of fat. When you have aesthetic goals like a leaner or slimmer body, a balanced and nutritious diet, regular exercise, and an overall healthy lifestyle are key. However, sometimes diet and exercise alone cannot get rid of those pockets of fat that don't seem to budge no matter how hard you work. If this describes you, Dr. Moein would like to discuss the possibilities of liposuction treatment.

To find out more about DR BABAK MOEIN. We advise you to request a consultation online. If you prefer, you are more than welcome to call our office
to schedule your appointment.