Having full, youthful-looking breast is an important aspect of how many women feel about their physical appearance. However, pregnancy, genetics, and environmental factors can take their toll on our bodies. It's generally understood that the breast size and lift will gradually decline as a result of skin losing its elasticity and fat deposits diminishing. This can cause breasts to sag or droop. Thankfully, the breast lift surgical procedure can dramatically improve these unwanted effects.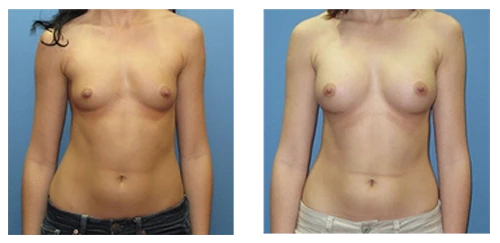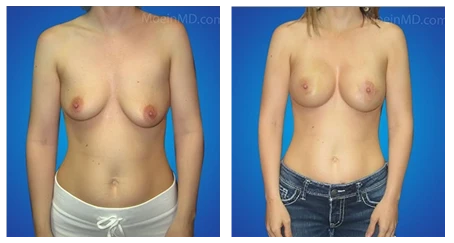 MORE BREAST LIFT EXAMPLES:

A breast lift, also known as mastopexy, is a cosmetic treatment that helps to raise and reposition the breasts by removing extra skin. It also tightens the tissue to reshape the contour of the breasts. Breast lift surgery is one of the most effective procedures to restore a woman's breast shape and aesthetic.
During your initial consultation with Dr. Babak Moein, he will discuss the various techniques, procedural options, and nuances of the procedure while sitting face-to-face. Contact us online or call our office today at 310-694-4486 to schedule your one-on-one consultation with Dr. Moein to discuss your options and to see if a breast lift is right for you.
Dr. Moein has extensive experience in breast lift procedures and provides some of the most competitive prices in the Los Angeles area. He has completed more than 1,500 successful cosmetic surgeries which have included the breast lift procedure.
Dr. Babak Moein is dual fellowship-trained in cosmetic surgery and minimally invasive surgery. He is the only surgeon in Southern California that has these credentials.
As one of the most uniquely qualified cosmetic surgeons in Southern California, Dr. Moein can achieve aesthetic goals using minimally invasive techniques. His training and expertise make for better decision-making on both short-term cosmetic goals and long-term preservation.
Here at Moein Surgical Arts, we understand that cosmetic procedures can bring anxiety to some first-time patients, but with our experienced doctor, state-of-the-art facilities, and breathtaking views, new patients can be assured that they are in the right hands.
We aim to give excellent service that is focused on the patient, offering a customized plan based on your personal goals.
A breast lift surgery removes excess skin and tightens the remaining tissue, creating a more firm and youthful aesthetic. Oftentimes, this surgery is combined with other procedures such as breast augmentation and lift to add more volume, increase size, and assist with sagging breasts. If your body's aesthetic goals are to lift and reduce your breast size, you may want to consider combining a breast lift with breast reduction surgery. In some cases, Dr. Moein will advise a specific type of lift operation with a combination of liposuction and breast augmentation procedure to achieve optimal results.
A woman's breasts can change over time or lose elasticity due to pregnancy, breastfeeding, aging, genetics, and/or weight loss. A breast lift can help rejuvenate your figure with more youthful and uplifted breasts

To find out more about DR BABAK MOEIN. We advise you to request a consultation online. If you prefer, you are more than welcome to call our office
to schedule your appointment.

GOOD CANDIDATES FOR A BREAST LIFT
Candidates for these surgical procedures are generally women in good overall physical and emotional health. Women who are planning to get pregnant in the near future should wait on the surgery until afterward. Ideal candidates share the following traits and characteristics:
Someone that is physically healthy and can maintain a consistent and stable weight.
Does not currently smoke.
Has sagging  breasts
Their breast size and/or shape are not symmetrical or even.
BREAST LIFT PROCEDURE OVERVIEW
There are several technique options for mastopexy (breast lift) surgery. Each procedure is tailored to fit the desires of the individual patient. The results may also vary depending on the severity of sagging. In general, most breast lift procedures abide by the following:
A form of anesthesia will be used during the surgery.
An incision is created in one of several areas.
Once the incision has been made, the breast will be reshaped by Dr. Moein.
The incisions are closed with medical stitches.
Before this procedure takes place, there will be a personalized consultation to discuss the best course of action for your cosmetic needs. Dr. Moein may go over your health history, ask for lab tests or a medical evaluation, and ask that you take or change certain medications. He may also recommend getting a mammogram before and after surgery so he can see the changes in breast tissue.
There are various methods of breast lift surgery and depending on the degree of sagging, also known as ptosis, Dr. Moein will decide which surgery is most appropriate for you. In general, the more ptosis you have, the more incisions you will have to lift your breasts to their normal position. The four main types of breast lift surgery include crescent lift, Circumareolar lift, lollipop lift, and anchor lift.
Crescent Lift
A crescent lift is performed by removing a crescent segment of the skin and subcutaneous tissue to move the nipple and areola complex into a more cosmetic position at the center of the breast. This method is used for minor drooping.
Circumareolar Lift
The Circumareolar lift is also known as the Benelli lift or donut lift, which is also reserved for minor drooping.
Lollipop Lift
Lollipop lift requires an incision around the areola and then vertically down the lower part of the breast tissue. This type of lift can effectively treat many types of breast ptosis.
Anchor Lift
This is the most effective form of lift that deals with both vertical and horizontal breast tissue excess and misalignment. The anchor lift is very similar to a lollipop lift with the addition of an inframammary fold incision. Candidates for this type of breast lift require a significant amount of breast lift and tissue reduction and movement.
HOW TO PREPARE FOR YOUR BREAST LIFT
Dr. Moein will give you instructions on how to prepare for your breast lift surgery. You will be given a care plan that may include blood tests, medication adjustments, and medications (such as aspirin, ibuprofen, and Motrin) to refrain from. Dr. Moein will create a custom pain management plan based on your personal history with pain tolerance and pain medication to help keep you as comfortable as possible during recovery.
All patients are required to quit smoking at least four weeks prior to surgery. Smoking impairs wound healing and thus smoking cessation is required for optimal results. Dr. Moein is happy to support patients with smoking cessation resources. You will also need to refrain from eating or drinking after midnight the night before your breast lift procedure and arrange for someone to drive you to and from surgery.
BREAST LIFT RECOVERY & RESULTS
Upon completion of your surgery, the recovery process begins. Generally speaking, patients can expect to return to their regular daily routines within a week. Keep in mind, however, that the breasts are likely to have swelling and feel sore for several days after the procedure. The doctor will recommend both prescription and over-the-counter medication to alleviate any discomfort.
As with most cosmetic procedures, breast lift results and recovery time can vary. With a breast lift procedure, the results are noticeable soon after surgery. However, it can take several months to see your final results. The results of breast lift surgery can be long-lasting if taken care of properly. Maintaining your weight and healthy lifestyle can help keep your new look longer.
AVERAGE COST OF A BREAST LIFT
According to 2018 data from the American Society of Plastic Surgeons, the average cost of a breast lift is $4,816, not including additional costs like anesthesia and other related fees. Depending on your health, body type, and aesthetic goals, the cost of your procedure may be higher or lower. Dr. Moein and his team at Moein Surgical Arts can help you discuss your options. We take special care to ensure patients know the entire cost of the procedure (including the post-operative visit) up front, and that patients do not incur any unexpected expenses.
To find out more about your breast lift options, we advise you to request a consultation online. If you prefer, you are more than welcome to call our office to schedule your appointment at 310-694-4486.