WHAT IS A BRAZILIAN BUTT LIFT?
Many women are not satisfied with the appearance of their butt, especially when they want an alluring, shapely figure to complement their overall silhouette and aesthetic. Fortunately, with butt augmentation procedures, the butt can be safely enhanced to the look, shape, and feel you've always desired.
BRAZILIAN BUTT LIFT BEFORE & AFTERS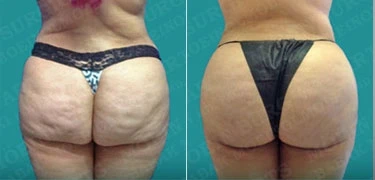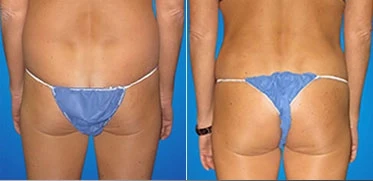 MORE VASER LIPOSUCTION EXAMPLES:
BRAZILIAN BUTT LIFT PROCEDURE
surgery in a comfortable, safe, and effective manner. The main goal of these procedures is to increase & improve the size and appearance of your buttocks. If you need more volume in your butt, you will need buttock augmentation – with either implants or fat grafting to make it more rounded.
However, if you have large portions of saggy skin that make you feel bad about your body, your insecurities can become a thing of the past with a lift procedure. In some cases, a butt lift can be combined with an augmentation surgery by using your own fat or an implant to restore volume and improve the contours of your buttocks.
Sometimes, the patient's own tissue can be repurposed and transferred to create more distinct contours. This is commonly referred to as auto-augmentation. The butt lift procedure can also be combined with a thigh lift procedure to help improve the texture of your skin for a seamless transition from your legs to your butt. Dr. Moein of Moein Surgical Arts will recommend the safest and most effective approach to meet your goals based on your ideal shape and overall health.

In many cases, the surgery is performed through fat grafting.   This fat transfer method is what coined the Brazilian Butt Lift surgery name.  Since this method involves using the patient's own tissue as opposed to injections or implants, it is a widely popular procedure.
The basic advantage of this approach is that it reduces the risk of rejection from the patient's body and minimizes the chance of infection as it utilizes your own natural fat and tissue. During the procedure, Dr. Moein will obtain fat from other areas of your body through liposuction.
This technique is so popular because it can enhance your backside by reducing the appearance of fat at the donor sites, which is often in the waist and lower back. Dr. Moein uses tiny incisions to minimize the risk of scarring and to act as openings for the various tools used during liposuction and fat injections. The aim of this surgery is to extract fat from unwanted areas of the body before the fat is injected into new locations to achieve the intended results.

Fat can be removed and grafted from the following areas for your BBL:
Belly
Hips (Love Handles)
Arms
Legs
The unwanted fat from these areas will act as a donor to your rear end. Your own body fat is the most natural and apt material to help improve your derrière's shape and feel. It is also the least likely substance or material to be rejected by your body, which makes it the safest approach. The BBL procedure has many aesthetic benefits as it not only enhances your butt but also slims down the areas where your fat is taken from. You can think of it as a complete body transformation.
To find out more about DR BABAK MOEIN. We advise you to request a consultation online. If you prefer, you are more than welcome to call our office
to schedule your appointment.

HOW DO BUTT IMPLANTS WORK?
If you have minimal fat in other areas of your body, then butt implants are the right choice for you.  Implants are yet another popular option to improve your butt's appearance. This surgery is a powerful method of increasing the size and enhancing the contour of your buttocks.
Once prepped for surgery, Dr. Moein will create a small incision near the top of your buttock crease, which acts as an entry point for the silicone butt implant. Dr. Moein will most likely place the implant beneath the muscle, which offers the most realistic results. If you have questions or concerns about this surgery, ask Dr. Moein during your consultation or next appointment.
LA BRAZILIAN BUTT LIFT FAQ'S
WHAT IS THE DIFFERENCE BETWEEN A BRAZILIAN BUTT LIFT AND BUTT IMPLANTS?
To be general, a Brazilian butt lift uses the patient's own fat from other areas of the body to be used in enhancing their buttocks. Butt implants involve using silicon-filled products to be placed into the area of the buttocks. Typically, the BBL is the preferred and recommended route, but patients who do not have sufficient fat storage typically have to opt for the implant route.
IDEAL CANDIDATES FOR A BBL
Great candidates for a Brazilian butt lift should:
-Be in good general health.
-Have realistic expectations of their results.
-Must have enough fat in other areas to be harvested and transferred.
-Have good skin elasticity.
HOW LONG IS THE RECOVERY PERIOD AFTER SURGERY?
You should expect to spend a day or two on bed rest or, as your surgeon advises to properly recover from anesthesia. You should be able to return to work after a week. During this time, try to engage in light activity only.
General walking and picking up the house are allowed for the first twenty to thirty days. You will be prescribed pain medication to help with any pain you may feel after surgery. This discomfort may last for three to five days, but the medication will help. You may experience general swelling and soreness in the treatment areas. This is normal and expected.
Follow Dr. Moein's recommendations closely while healing and afterward as you resume your regular routine. It can take time, up to six weeks or more, for you to feel "back to normal." The good news is that you will be able to sit down comfortably shortly after your butt lift surgery.
Dr. Moein may recommend that you wear a special compression garment for around a month and a half after surgery. This tight apparatus minimizes swelling and ensures that the fat grafting retains the proper shape following the surgery.
DO BUTT SURGERIES HAVE RISKS?
Butt augmentation and butt surgery are both surgeries, and all surgeries have some level of risk. However, these procedures are safe. You can minimize the risks to your health by choosing the best cosmetic surgeon who uses meticulous surgical techniques and sound judgment to give you the aesthetic results you want without the risk.
The most common risk to your health is the buildup of fluid, which can be minimized by using drain tubes during the procedure. The tubes will remain after surgery, whereby they will be removed after a few days. Sitting down should not pose an issue after surgery. You may want to limit sitting down for at least a week after your implant procedure. After that, you can sit down to your heart's content on your shapelier backside.
With butt lift implant surgery, you'll have to wear a compression garment. You will continue wearing the garment for around a month following surgery, depending on how well you heal. Many patients worry if implants are safe. You'll be happy to know that butt implants are FDA approved and are therefore considered extremely safe.
Further, implants are made of silicone elastomers. This gives the prosthetics their strength, which means they are unlikely to break, leak, or burst. You can go big or get subtle with butt implants. Dr. Moein has decades of experience and training in butt implant surgery. Based on your health and cosmetic surgery goals, Dr. Moein can help you find a butt enhancement option that works for you.