A body lift is a plastic surgery procedure that removes excess skin to reshape and contour the body. The body lift procedure can be performed as an upper or lower body lift procedure. An upper body lift procedure can target the breast, neck, back, and arms.  A lower body lift procedure can address issues with the abdomen, waist, thighs, buttocks, and hips. At Moein Surgical Arts, Dr. Moein offers the top body lift procedures for his patients. Body lift procedures can be combined or performed alone. A body lift procedure is most commonly combined with a liposuction procedure.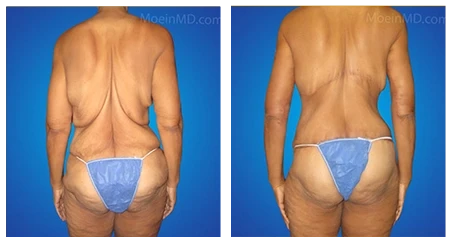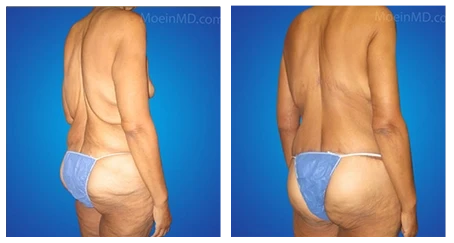 AM I A CANDIDATE FOR A BODY CONTOURING PROCEDURE?
Candidates may want to address functional and cosmetic concerns after undergoing significant weight loss with a body contouring procedure. Patients should be close to their ideal weight to achieve the best results possible. Candidates should be in good health and have realistic expectations. Dr. Moein will meet with each patient individually for a comprehensive consultation. Dr. Moein will then perform a thorough physical examination and review the patient's medical history. Patients can discuss their concerns, goals, and expectations for this procedure with Dr. Moein during this appointment. Dr. Moein will tailor a customized body lift treatment plan for the patient based on their ideal goals and his expertise.

To find out more about DR BABAK MOEIN. We advise you to request a consultation online. If you prefer, you are more than welcome to call our office
to schedule your appointment.

BODY CONTOURING PROCEDURE
Patients will be placed under general anesthesia to prepare for the surgery. Dr. Moein will carefully place the incisions to reposition and tighten the skin in the targeted areas. Body contouring procedures will vary based on the patient's ideal goals for the procedure. A compression garment will be placed after the procedure to reduce swelling and heal the new shape into place.
BODY LIFT RECOVERY PROCESS
Body lift recovery will vary based on the patient's body lift procedure. Patients should arrange a ride to and from the surgical center. Patients may experience slight pain and soreness following the procedure. Patients may return to work after 3 weeks. Strenuous activity should be avoided for at least 6 to 8 weeks. Dr. Moein will schedule a postoperative appointment to monitor the patient's recovery process. Results are long-lasting and can be maintained with a healthy diet and exercise.
Find out if a body lift procedure is right for you and schedule a consultation with Dr. Moein at Moein Surgical Arts today.