LOS ANGELES NECK LIFT PLATYMAPLASTY
A neck lift, also known as a lower rhytidectomy, is a cosmetic surgical procedure that is used to improve the appearance of the neck by tightening the skin and muscles in the area. This procedure is designed to address the signs of aging that can occur in the neck, such as sagging skin, wrinkles, and a double chin. If you are considering a neck lift, here's what you need to know:
What Happens During a Neck Lift?
During a neck lift, the surgeon will make incisions behind the ears and under the chin. Through these incisions, they will remove excess skin and fat and tighten the muscles in the neck. The procedure typically takes around two to three hours to complete and is usually performed under general anesthesia.
Who is a Good Candidate for a Neck Lift?
The ideal candidate for a neck lift is someone who is in good health with realistic expectations about the results of the procedure. You should also have loose skin and excess fat in the neck area that cannot be improved through other non-surgical methods, such as diet and exercise. It's important to note that a neck lift is not a weight-loss procedure, and it should not be used as a substitute for a healthy lifestyle.
Fortunately, Dr. Moein of Moein Surgical Arts specializes in neck lifts or platysmaplasty to fight the effects of aging on the neck. A neck lift will drastically restore your neck's firm, smooth, and youthful look. Please call our office today to schedule your neck lift consultation.
Dr. Moein is a trusted cosmetic surgeon known for delivering beautiful results for the greater Los Angeles area. You can trust Dr. Moein with your Platysmaplasty or neck lift procedure. The benefits of undergoing the procedure can include:
A more youthful and defined jawline.
The appearance of loose, saggy, excess skin will be reduced.
Neck muscles tightened to minimize the hanging vertical muscle bands.
Removal of excess fat and tissue for a slimmer, tighter aesthetic.
Please contact us online or call our office at 310-694-4486 to schedule your consultation with Dr. Moein. During your consultation, Dr. Moein will discuss your trouble areas and goals to help you decide whether a surgical or nonsurgical neck lift option may be the best choice.
NECK LIFT BEFORE & AFTERS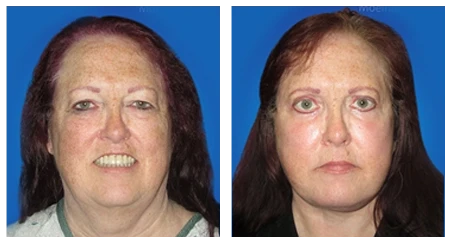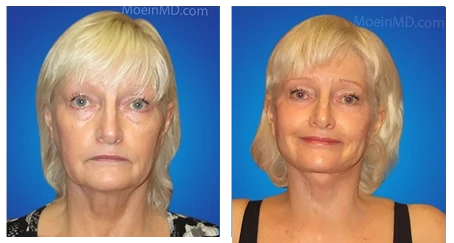 NECK LIFT SURGERY RECOVERY
The following are general guidelines for neck lift patients to consider following surgery. You will be able to return home shortly post-surgery.  Patients can expect general bruising, swelling, and soreness in the performed area. It is recommended that you plan on setting aside at least 2 weeks for proper recovery and healing. Once bruising subsides and you begin nearing complete recovery, you will be able to see full results.
What Results Can You Expect?
A neck lift can help to improve the appearance of your neck by tightening loose skin, reducing the appearance of wrinkles, and eliminating a double chin. The results of the procedure are long-lasting, but they will not stop the natural aging process. It's important to maintain a healthy lifestyle and protect your skin from sun damage to help prolong the results of your neck lift.
If you are interested in improving the appearance of your neck, a neck lift may be an option. Talk to a board-certified plastic surgeon to learn more about the procedure and whether it is right for you.

To find out more about DR BABAK MOEIN. We advise you to request a consultation online.
If you prefer, you are more than welcome to call our office to schedule your appointment.