Wouldn't it be great to look as young as you feel?
Well, you can, and cosmetic surgery can help your aging exterior match your youthful interior.
According to the ASPS, 22% of all cosmetic surgeries in 2010 were performed on patients aged 55 and above.
Now, over ten years later, the number of older Americans opting for cosmetic surgeries continues to rise.
Remember, sixty is the new forty! Whether you're in your 30s, 40s, 50s, 60s, or above, if you don't want to look your age, now is the time to do something about it.
No matter how old you are, start considering what you could look like with a slimmer frame, firmer contours, and a more robust, um, bust.
Imagine reversing age by a decade on your face and neck. Picture your abdomen looking trim after a tummy tuck. These images don't have to be fantasy. Cosmetic surgery is the answer to looking your best at any age.
For older men, eyelid and forehead surgery, a facelift, tummy tuck, and gynecomastia surgery (male breast reduction) can renew your zest for life, and do untold wonders for your manly self-esteem.
When it comes to cosmetic surgery, for both men and women, age has zero limits.
You might be as physically fit in your fifties and sixties as you are up into your nineties with the way advancements in medicine are going.
To match the vigor you feel inside, here are some considerations if you're on the older spectrum of life and looking to boost your appearance with one or more cosmetic procedures.
Is Cosmetic Surgery Safe for Older Patients?
Only after conducting a thorough evaluation can a board-certified cosmetic surgeon tell you if a particular cosmetic surgery will be safe for you.
To be considered for cosmetic surgery, you must be in good general health.
It is an unfortunate fact that many men and women above 50 face pre-existing conditions that could make them ineligible for cosmetic surgery.
These include chronic conditions associated with aging like diabetes and high blood pressure.
Just because you have a pre-existing condition does not automatically exclude you from surgery. Your candidacy for aesthetic rejuvenation will be gauged on a case-by-case basis.
While your health is important, your results will depend on the experience and skill level possessed by your cosmetic surgeon.
A full evaluation by a board-certified cosmetic surgeon will include a physical exam. This series of tests assess your overall health and risk factors, such as medical conditions that could make the surgery unsafe. The surgeon will ask about your medical history, medications you might be taking, and your desired results.
Once you are cleared for surgery, you can bet you have your surgeon's assurance that the procedure will be safe and effective in delivering the intended results.
More Older Patients Having Cosmetic Procedures Than Ever Before
Not only can cosmetic surgery be safe for aging men and women, but more older Americans are opting for head-to-toe aesthetic makeovers.
Advances in medical technology have made it possible for people to live longer and healthier lives. No rule says we have to look at our age.
Cosmetic surgery allows you to refurbish your outside to match your energetic inside. This will let you get the most out of life and look great doing it.
Popular Cosmetic Treatments for Older Patients
Looking to brighten up your golden years? You have quite a few options available to you.
Facial Cosmetic Surgery for Older Patients
Patients ages 55+ tend to prefer cosmetic surgeries like facelifts, eyelid surgery, and dermal fillers.
Surgeons perform facelift surgery to reverse the signs of aging from the front and sides of the face. Any sagging and loss of muscle tone can be corrected with this amazing cosmetic surgery.
During the procedure, your cosmetic surgeon tightens the muscles underneath the skin. The skin then gets redraped around the face and neck for a dramatically younger appearance.
Eyelid surgery aims to correct the natural sag and droop that can occur with advanced age. During an eyelid procedure, your surgeon will remove excess tissue from the upper and lower eyelids. The technique makes you look more rejuvenated, rested, and alert.
Surgeons use dermal fillers to fill those deep creases that occur with age. Fillers pack the spaces within those creases, smoothing out fine lines and wrinkles. Facial fillers can also be used to plump the lips.
The Best Age for Abdominoplasty (Tummy Tuck)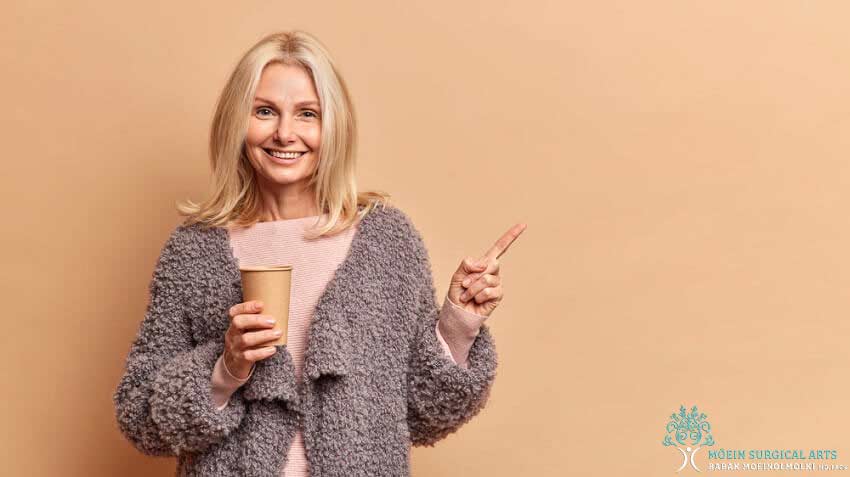 Age is not the best way to determine if a person is a suitable candidate for a tummy tuck. What matters most is health and being as close to your ideal weight as possible.
If you are an older woman thinking of getting a tummy tuck, make sure you don't plan to have more children. Many women are waiting until later in life to have children. As long as you don't want to have children anymore and lead a healthy lifestyle, a tummy tuck could be right for you.
Age can affect how you recover from tummy tuck surgery. Younger patients usually experience smooth abdominal skin following a tummy tuck procedure.
With older skin losing its elasticity, your aging tummy may not bounce back to accommodate the ideal contours. A tummy tuck can still give you vast improvements by removing saggy skin and extra padding around the abdomen.
Ideal Facelift Age for Men and Women
Facelift surgery is common among those 55 years and older. Advances in techniques have allowed cosmetic surgeons to become akin to artists, shaping the face into a subtly more youthful shape.
The concern in years past was that a facelift might make you look "too young." The idea is that your cosmetic surgery would be noticeable to all those around you.
The days of getting that blown-back look with the facelift are over. As is the case with other cosmetic treatments, the facelift is customizable. Tell your cosmetic surgeon how much improvement you want, and where. This allows your cosmetic surgeon to give you natural-looking results with this safe and effective aesthetic technique.
Breast Augmentation for Older Women
Breast surgery is ideal for women at any age, provided you are healthy enough to have surgery.
Breasts that sag can be lifted with a breast lift. Breast augmentation can be used alone or in conjunction with a lift to give your breasts perkiness.
Natural breast augmentation takes fat from another area of your body, such as your abdomen, and injects it into your breasts. The results look and feel natural.
Breast implants have been used for decades safely and effectively to enhance a woman's curves and boost her self-esteem.
You don't have to be a certain age to enjoy these surgeries. If you have been unhappy with your breasts up until now, isn't it time to stop stressing over something that you can easily fix?
Breast surgery could give you newfound confidence.
There are considerations for older women, however. Keep some of them in mind and be ready to discuss their implications with your cosmetic surgeon during the initial consultation.
General Health
Many older women today are in the best shape they've ever been in. If you are in good health, you may be a viable candidate for cosmetic breast surgery.
If you have pre-existing conditions, your cosmetic surgeon may feel that surgery would pose too great a risk to your health. A one-on-one assessment would be necessary to successfully gauge your candidacy for a breast procedure.
Skin Health
Without healthy skin, your breasts won't be able to support breast implants, leading to poor and short-lasting results. Scarring can also result if your skin lacks the necessary collagen and nutrients to heal the surgical incisions properly.
During the initial consultation, the cosmetic surgeon will perform a physical exam to assess your level of skin health. You can then discuss how your skin condition will affect your breast surgery results and how to maintain your results long-term.
"Am I Too Old for Cosmetic Surgery?"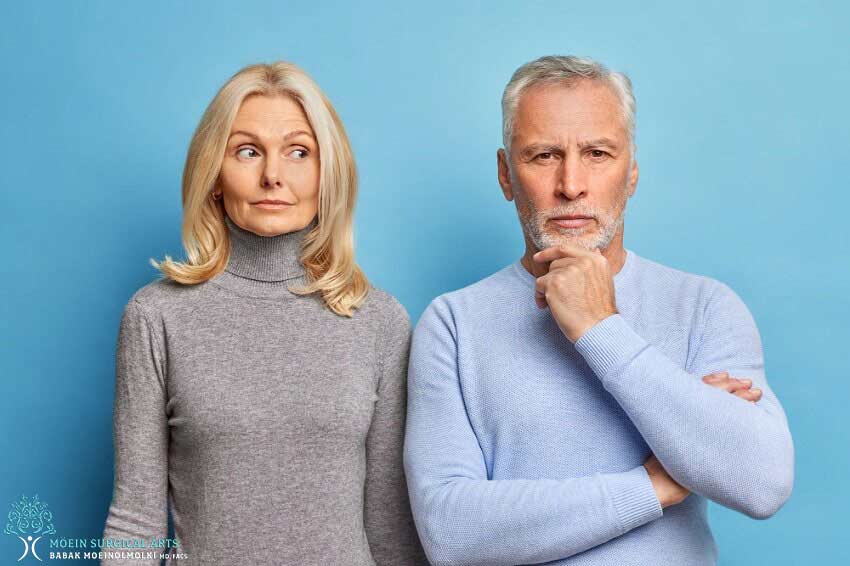 If you have an irregularity you would like to correct, you are never too old for cosmetic improvement.
Let's recap.
To be eligible for cosmetic surgery, you need to be in good general health.
Cosmetic surgery in your golden years is subtle thanks to medical advancements. There will be no telltale signs that you had work done.
There are cosmetic treatments for older men and women, from eyelid surgery and breast implants to gynecomastia surgery and the tummy tuck. Any person of any gender at any age can look terrific by choosing the best cosmetic surgeon and the right aesthetic techniques.
Wondering if You're the Right Age for a Cosmetic Makeover? Dr. Moein Can Help You Decide
There is no ideal age for when you should or shouldn't get cosmetic surgery. Boosting your appearance can do wonders for your self-esteem and could open new doors that were previously close to you. Even if those doors were of a psychological nature. There is no better feeling than looking in the mirror and knowing you look just as young as you feel inside.
Give yourself the gift of youth and schedule a consultation with world-renowned cosmetic surgeon Dr. Babak Moein of Moein Surgical Arts in Los Angeles, California. Dial today (310)694-4486.