Wouldn't it be great if you could keep your younger-looking skin longer? Unfortunately, aging is a part of life, inevitably leading to wrinkles and sagging skin. However, some strategies can help you maintain youthful-looking skin for many years.
Aging skin can take on a leathery appearance as the internal components that keep skin healthy begin to break down. Collagen and elastin are key ingredients that help skin retain a youthful appearance. When the skin loses its luster and its ability to contract, we get skin that leaves much to be desired.
As if wrinkles weren't bad enough! Now we must worry about our skin looking more fitting on a handbag as we age.
Fortunately, advances in cosmetic surgery have made it possible to reverse the clock on our skin.
Using treatments like Renuvion and facelift surgery, you can enjoy reinvigorated skin. But those are only two treatments. There are a few more you should know about.
Take a journey with Moein Surgical Arts as we introduce you to the world of skin rejuvenation.
And remember, if you wish to reverse the years on your appearance, contact us in Los Angeles. You can schedule a consultation with Dr. Babak Moein by calling (310)694-4486.
What is Cosmetic Surgery?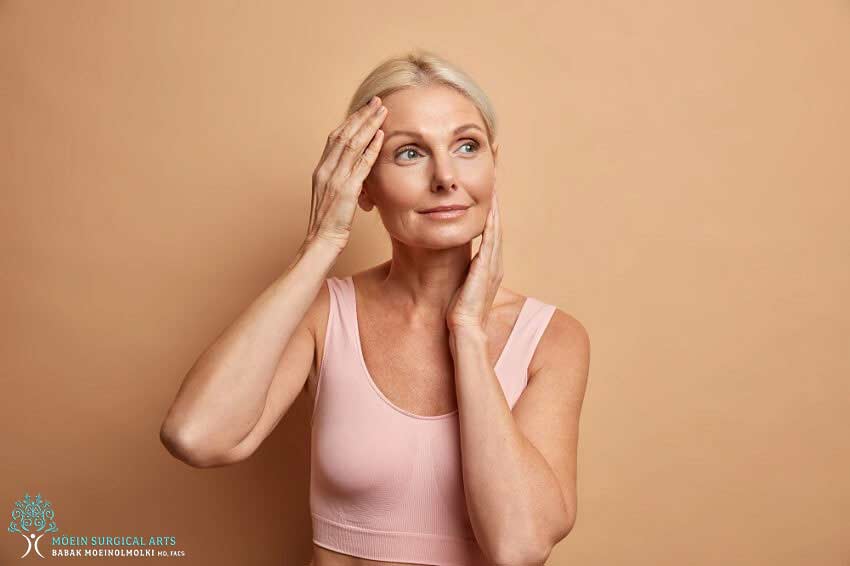 Cosmetic surgery uses both surgical and alternative medical techniques to enhance your appearance.
These procedures can be performed nearly anywhere on your body, including your face. They can improve the proportions of certain body parts and add symmetry.
Cosmetic surgery can also be used to improve the quality of the skin.
The procedures and techniques you opt for will depend on the location of the treatment area and the extent of the problem. Let's explore a few of your options as someone aiming to look younger with cosmetic enhancement.
"Can Cosmetic Surgery Give Me a More Youthful Face?"
Yes! Everyone wants a youthful face.
The best treatments for skin rejuvenation on the face include facelift and eyelid surgery (blepharoplasty).
Facelift
During a facelift, the fat and tissue under the skin are repositioned, which smooths minor creases.
Excess skin is also removed, which helps with jowls. The facial skin is lifted and tightened, which helps the skin look noticeably more youthful.
Eyelid Surgery
The eyes are one area where age tends to show up early on. The skin of the eyelids is thin enough without adding age to the mix. It doesn't take long for the eyelids to droop and sag once age takes effect.
The cosmetic surgeon removes excess fat and skin from the eyelids during Blepharoplasty. The muscles and skin are then tightened. The effect makes you appear younger and more alert and well-rested.
Eyelid surgery can also help with those heavy dark circles and under-eye bags that sometimes show up as the years pass by.
Non-Surgery for Youthful Skin
Face Injections to Look Younger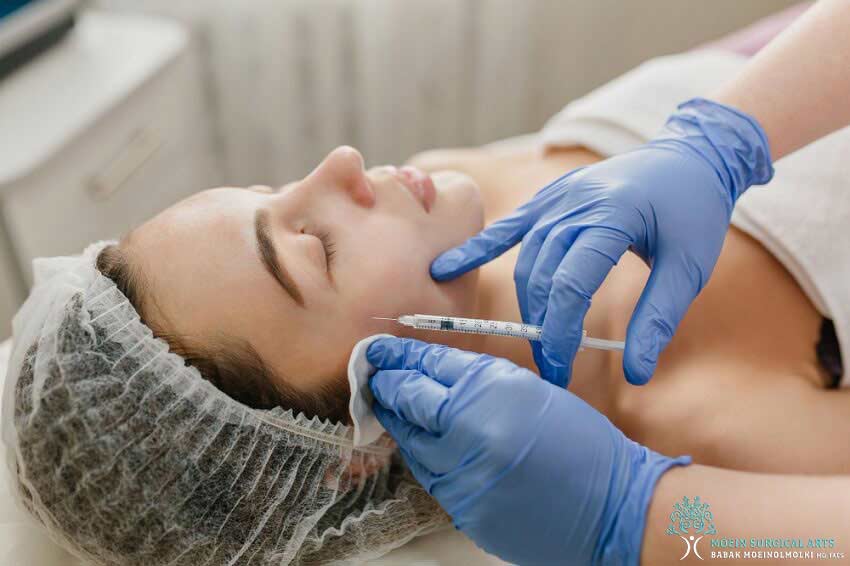 Non-surgical treatments include injectable treatments like Botox (Injectable neurotoxin) and Juvederm. Laser treatments are another possibility.
Injectable Neurotoxin
You might have heard of Botox, which is a brand name for a type of injectable neurotoxin. Other brands like Dysport do the same thing, which is to diminish facial wrinkles. Injectable neurotoxins temporarily relax the facial muscles, which leaves your skin smoother and younger.
It's a myth that you must look emotionless or "frozen" when you opt for one of these injectable rejuvenators, but that's not so. The right amount can give you the expected facial refresher without the negative side effects.
Neurotoxins can soften existing wrinkles, prevent existing lines and wrinkles from deepening, and prevent the formation of smile, squint, and furrow lines, erasing years from your face.
Juvederm
Fillers like Juvederm, Restylane, and Belotero aim to add lost volume to the face. This is one use for these amazing filler treatments. The non-surgical cosmetic procedures can rejuvenate the areas around the eyes and the cheeks that may have become hollow or flat with age. The result is a face with tighter, more youthful-looking skin.
You can also use facial fillers to fill in lines and wrinkles, adding to the youthfulness effect.
There is also a non-surgical facelift that can do wonders when you're not ready to commit to the full facelift.
Below the Chin
Kybella Double Chin Treatment
One way for your skin to look older than it should be is to have an abundance of fat in one particular area. Take the spot under your chin for instance. Having fat there can make you look like you have two or more chins. Not the most flattering look, especially as you grow older.
Kybella double chin treatment melts the fat cells from underneath your chin and around your jaw. That double chin could be a thing of the past, leaving your skin more supple, contoured, and youthful in sight and touch.
You might be wondering how the treatment works. Kybella is an injectable, similar to Botox and Juvederm, except the serum is not a filler. Instead, Kybella consists of a synthetic version of deoxycholic acid, which is naturally made by the human body. Once injected, the acidic serum permanently destroys fat cells with almost no downtime. Multiple treatment sessions may be necessary. The true results of Kybella will appear four to six weeks after the final treatment.
Neck Lift
Other than the skin around the eyes, the neck also tends to show your age. Now, the neck lift can revitalize the aging skin between your head and torso, leaving the area smoother with a youthful glow.
A neck lift works similarly to a facelift. Fatty tissue and loose skin are removed before the treatment area is smoothed and pulled tight. Once the treatment area has healed, you will see the amazing results, which is the neck of a much younger individual.
Skin Rejuvenation on the Face and Body
CO2 Fractional Laser Resurfacing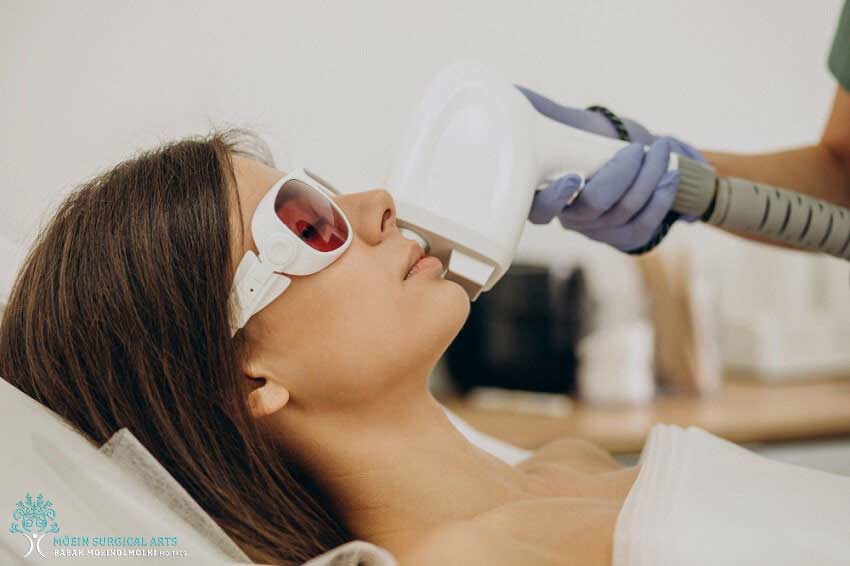 Being apprehensive about trying laser treatments is normal. Any time you have a high-tech, high-heat beam aimed your way, it's understandable to get a little nervous.
However, C02 fractional laser resurfacing is safe, and effective, and mostly feels like getting a mild sunburn.
The laser is precision-guided, which means only the treatment area is effective, leaving all surrounding tissues unaffected in every way.
Once applied, the laser goes to work on your problem skin. First, the skin is heated in tiny areas, which leaves a set pattern along your skin. The treated skin begins to produce anti-aging collagen, which rejuvenates your skin and leaves every inch of the treatment area looking refreshed.
The reason carbon dioxide is used is that it creates the most powerful laser for resurfacing. The treatment vaporizes the problem skin a single layer at a time if you can believe it. Yes, the laser is that precise.
The technology is decades old and as safe as can be. What's more? The recovery period is a breeze. While your skin continues to create more collagen over time, you'll feel like you've had a mild sunburn for around three days. Not too bad at all for the amazing results you can achieve with laser resurfacing.
Not only can C02 lasers make your skin look younger, but you can also rid your skin of defects like sun-damaged skin, an uneven skin tone, and even stretch marks. Multiple treatments may be recommended to achieve the intended result.
Lumecca IPL Skin Rejuvenation
Some call this anti-aging treatment the "fountain of youth" because nothing gives you clearer skin quite like it.
The treatment uses intense pulsed light (IPL), which are high-intensity beams of light that have skin resurfacing capabilities.
Lumecca is excellent for reversing age on your face and body, but it can also treat acne scars, vascular lesions, and age spots.
If you want healthy-looking skin, ask Dr. Moein about Lumecca during your initial consultation.
Renuvion Skin Tightening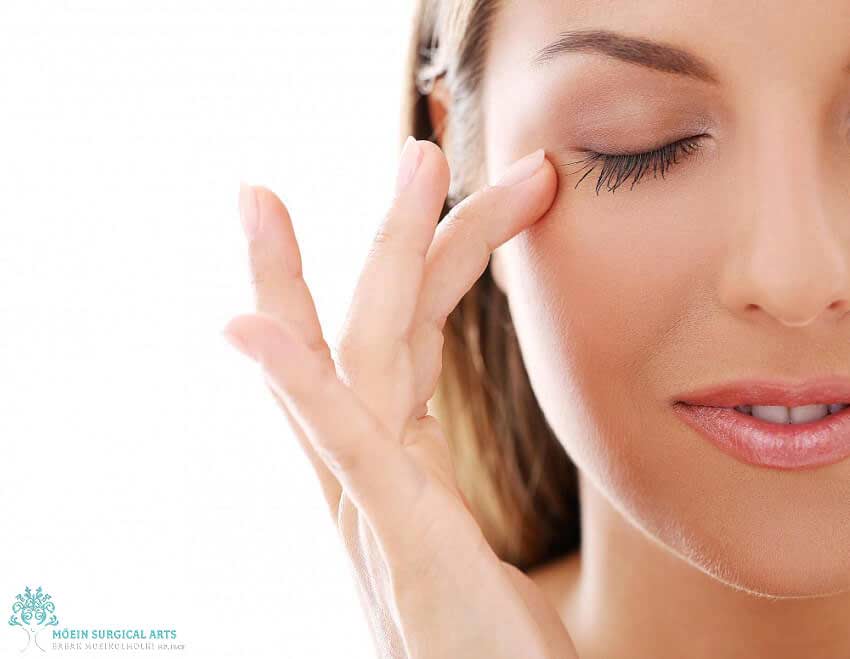 Renuvion is non-surgical and minimally invasive, which means it's one of the safest and most comfortable treatments we have to youthify aging skin.
This procedure can be used on the face, neck, and body. The treatment is excellent for aging skin, jowls, and small wrinkles.
The handheld device is inserted through small incisions made under the skin. Lidocaine is first applied to ensure you don't feel a thing. The treatment instantly tightens skin and leaves it rejuvenated by stimulating collagen production.
Renuvion can be combined with other cosmetic surgeries like Vaser Lipo, the thigh lift, arm lift, neck lift, and tummy tuck.
These are just some of the treatments available to you as someone looking to rewind the effects of time on their precious skin.
With treatments like facelift, neck lift, eyelid surgery, and Renuvion now available, there is no reason why you should feel bad about the way your skin looks. All it takes is the treatment of your choice to make you look like a much younger and more attractive version of yourself.
Want to Look Younger? Book Your Appointment Today
Are you ready to look younger? Stop fretting about your skin looking a little worse for wear and instead schedule a consultation with Dr. Babak Moein of Moein Surgical Arts. All consultations are private and discrete. Call today to learn more. 310-694-4486
Disclaimer: The FDA has not approved the use of Renuvion for cosmetic use. The FDA has approved Renuvion for coagulation of tissue only.
The specific advanced use of this new technology for skin tightening still remains investigational. The off-label use of Renuvion is only suitable for specific groups of patients with minimal skin laxity. Many devices initially have general use approval, and with time, the expanded indications are approved to popularize usage.
If you are a suitable candidate for Renuvion, Dr. Moein will discuss this information with you to ensure your understanding and comprehension before opting for the Renuvion procedure.