Do you hate your tummy?
Is it a bit squishier than you would prefer?
Sure, you could hide it with a high-waisted bathing suit while at the beach or pool
But wouldn't you rather have a flat and firm midsection you can proudly show off?
Conventional wisdom says to do more crunches, and cardio, and to engage in extreme dieting to shrink your stomach down.
Or you could go for a conventional tummy tuck.
However, a tummy tuck can be expensive and often leaves you with scars.
Now, a new FDA-approved technology is allowing cosmetic surgery patients to experience a flatter and firmer tummy with scarless tummy tuck.
Known as Renuvion, this minimally invasive procedure can give you the midsection you crave.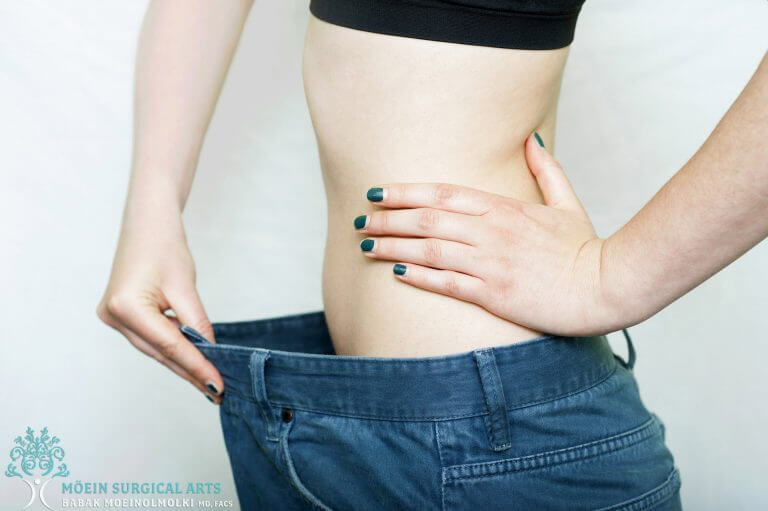 It's perfect for the beach or pool or for any clothes you decide to wear.
The best part is that it's affordable, offered at a cosmetic surgeon's office near you, and doesn't leave you with a single visible scar.
Here's more about this impressive tech that is taking the world by storm.
What is Renuvion and How Does it Work?
Renuvion is a skin-tightening procedure that can make your squishy tummy flat as a board.
The technology is known as J-Plasma and uses helium-activated radiofrequency energy to make the skin tighter. It gives you the impressive tummy you crave, no extreme dieting required.
Your cosmetic body contouring surgeon wields a hand-held device that delivers the energy waves to the undersurface of the skin.
There is a tiny incision that is made which allows for the energy transfer, but the cut is hidden in the natural folds of your skin, which hides the scar after it heals.
The energy that is delivered under the skin is in the form of a small plasma flame which heats the underlying tissue and stimulates the production of collagen. Because of this process, the skin is triggered and begins to tighten and shrink.
This process is referred to as subdermal coagulation. It's much the same way the egg whites will coagulate when heat is applied. The same thing happens to the tissues underneath the skin.
The procedure takes less than an hour (usually around 45 minutes) and is completely safe and effective.
While you will notice results right away, the true results of the procedure will happen over time.
That means that you will continue witnessing the tightening of your abdominal skin for a full six to nine months after the initial procedure.
An Alternative to Abdominoplasty (Traditional Tummy Tuck)
For years, the conventional tummy tuck was the only cosmetic way to achieve a sculpted abdomen.
The tummy tuck was the preferred procedure because it removed excess abdominal fat and treated skin laxity.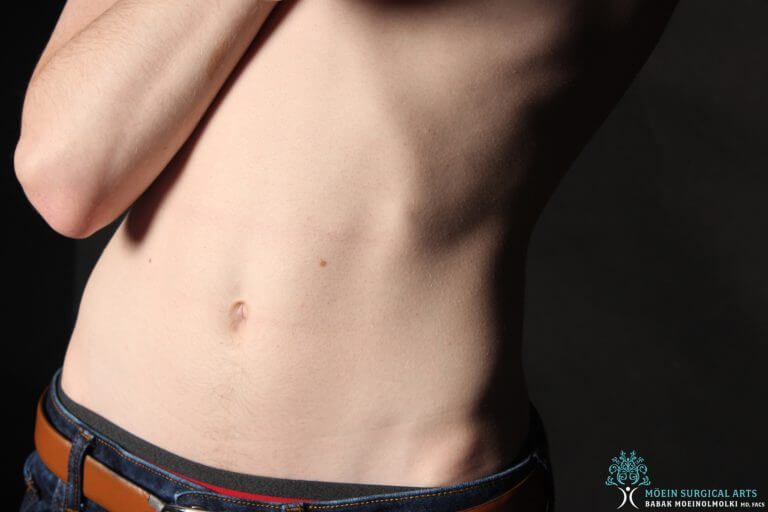 The downsides of the tummy tuck are long recovery times, leftover scarring, and the high price tag.
The recovery time for a traditional tummy tuck is between six weeks to a few months. Many people don't have the luxury of allowing themselves to heal for that long.
The scar that results from a tummy tuck runs from hip bone to hip bone and is often visible afterward.
As far as the fees, the tummy tuck usually comes with a price tag that averages between $11k and $12k, with all associated fees included. The Renuvion procedure, meanwhile, runs about half that amount.
If you have more abdominal fat than you would prefer, as a bonus, the Renuvion procedure can be combined with liposuction or even HD Lipo to remove unwanted fat and get rid of the excess or loose skin, leaving you with a tummy that is perfect for any swimsuit you choose to wear.
Although Renuvion technology is a powerful technology to tighten the abdominal skin it does not work on everyone as it depends on the degree of skin excess. At times we can combine a mini tuck to address excessive skin below the belly button and address the excessive skin above with Renuvion. These combination operations are powerful means to achieve the best result with minimal scarring.
Who is a Good Candidate for Renuvion Tummy Tightening?
The scarless tummy tuck, which is when you combine Renuvion with liposuction (or HD Vaser Lipo), can give you the flatter and firmer midsection you crave without damaging the surrounding tissues or lengthy recovery periods.
This procedure may be ideal for your situation if you:
Experience mild or moderate amounts of abdominal skin laxity
Recently given birth and have loose skin after pregnancy
Have aging skin that has lost its elasticity
Have localized pockets of fat around the midsection
Are generally healthy with adequate abdominal muscle quality
Have realistic expectations for your results
Desire a more youthful physique and "toned" tummy
Worry about long scars following your tummy tightening procedure
It should be noted that Reunion skin tightening is not a solution for eliminating large amounts of excess skin, which is typical after extreme weight loss, multiple pregnancies.
Other Benefits of a Renuvion Scarless Tummy Tuck
When J-Plasma or Renuvion is combined with Vaser liposuction, you're not forced to rest in bed for weeks at a time. This is one of the reasons so many patients choose and love this procedure.
Rather, after you have had the Renuvion technique applied to your tummy, along with liposuction, you only have to rest for one to three days.
This scarless tummy tuck lets you get back to work and your usual fitness routine faster than if you had chosen the traditional tummy tuck to get the desired midsection.
The results look natural, there is no visible scarring, and you get to look great in your birthday suit, any clothes you wear, and swimsuits, whichever you prefer.
Furthermore, you can use Renuvion on other body parts to tighten and firm the skin where you want it most. This includes the back, bra area, buttocks, chest, face, neck, flanks, knees, and thighs (inner and outer).
How Long Do the Results of Scarless Tummy Tuck Last?
The abdominal tightening effects of Renuvion are designed for both men and women and are relatively permanent. With proper care, you should be able to enjoy the flatter tummy you want long into the future.
You can boost your chances of having a lifelong flatter and firmer tummy by scheduling with one of the best cosmetic surgeons available, such as Dr. Moein of Moein Surgical Arts.
Located in Los Angeles, California, Dr. Moein has a long list of impressive reviews from his loyal patients for a few major reasons.
Not only does the doctor has skills and experience, but also he truly cares for his patients and the long-term results they can achieve.
Schedule a Virtual Consultation with Dr. Moein to Ask About Renuvion
Dr. Moein is one of the few cosmetic body contouring surgeons offering Renuvion scarless tummy tuck. This relatively new technology will soon be everywhere. This is your chance to experience amazing results for yourself before everyone else.
Call (310) 694-4486 and choose the best time for your virtual consultation. Dr. Moein looks forward to speaking with you.
Disclaimer: The FDA has not approved the use of Renuvion for cosmetic use. The FDA has approved Renuvion for coagulation of tissue only. The specific advanced use of this new technology for skin tightening still remains investigational. The off-label use of Renuvion is only suitable for specific groups of patients with minimal skin laxity. Many devices initially have a general use approval, and with time, the expanded indications are approved to popularize usage. If you are a suitable candidate for Renuvion, Dr. Moein will discuss this information with you to ensure your understanding and comprehension before opting for the Renuvion procedure.