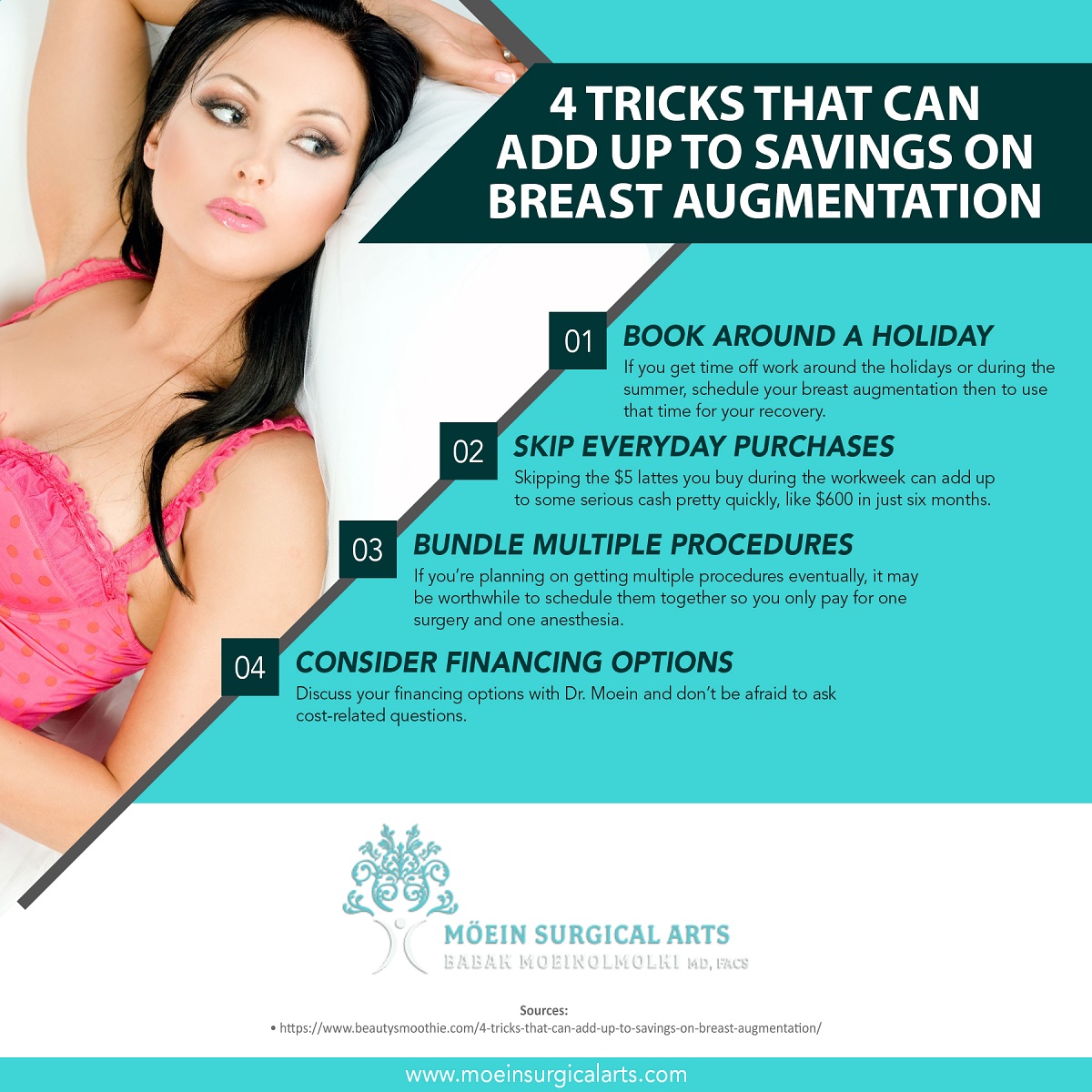 If you're considering breast augmentation, it's important to know about the different procedures and what you need and tricks for savings on breast augmentation. Whether it's a simple lift or a reduction, read on to decide which is best for you.
Breast Lift to Achieve Perkier Breasts
A breast lift, or a mastopexy, is designed to bring your breasts up to a perkier position by removing the excess skin that is allowing the breasts to sit at a lower position on the body. Oftentimes this skin has been damaged from excessive weight gain or loss, causing it to have stretched and become too weak to hold up the breast tissue.
This is an invasive treatment that will require an anchor like incision on the bottom of your breast and will wrap around the border of the areola. Through this incision, your doctor will be able to remove the weakened or excess skin and position the breast tissue up on your body for a more youthful and firm effect.
Breast Augmentation to Achieve Fuller Breasts
Breast augmentation, or mammaplasty, can help you change the size and shape of your breasts through the insertion of a type of implant either on top of or below your breast muscle. The types of implants, and methods can vary depending on your doctor and your preference. This is a surgical procedure that will be semi-permanent. The effects can often be reversed, but they will not fade over time.
According to the American Society of Plastic Surgeons, nearly 300,000 women in the US opt to have breast augmentation each year. With a board-certified surgeon, this is a safe and common procedure used throughout the US to help hundreds of thousands each year feel more comfortable and confident in their own skin.
Breast Lift & Augmentation Combination
If you decide that you want a breast lift and volume, you can have a combination procedure done that will remove the excess skin and install implants to achieve the breasts you've always wanted.
Breast Reduction to Achieve Smaller Breasts
Whether you've considered it or not, there are many women out there that are very bothered by the size of their breasts. From migraines and back pain, to body confidence and clothing accessibility, breasts that are too large can pose many problems. A breast reduction, or a mammaplasty, is a procedure that can alleviate some of these problems by minimizing your breast tissue.
The options for incisions and final results will vary based on your specific body type and the size of your breasts. After an initial consultation with your plastic surgeon, you should have a clearer idea of what you can expect from a breast reduction and how you can prepare.
Inverted Nipple Correction
An inverted nipple is one that points inward instead of outward. While this may not cause you any health issues, it is often an insecurity for people that have this occurrence. Through the correction, your doctor will be able to rectify the situation in a way that will leave minimal scarring.
To determine if this procedure is right for you, you will need to consult with your doctor, and they will determine whether or not the correction will meet your expectation.
4 Tricks That Can Add Up to Savings on Breast Augmentation
1. Book Around A Holiday
Electing to have your procedure performed around a holiday can help save you money by potentially allowing you paid time off. If your work is paying for your recovery, you will not miss out on income to recover from your augmentation.
2. Skip Everyday Purchases
How many times a week do you spend $5-$15 on a luxury expense such as coffee or eating out? If you were to skip these little purchases and instead add that money to a stockpile for your breast augmentation, you would probably find that you can afford the procedure much more easily than you would've initially thought.
3. Bundle Procedures to Skip Additional Expenses
If you're considering having several different cosmetic procedures done, it may benefit you to go forward with as many as you can at the same time. This could save you the added costs of multiple anesthesia or surgery charges by only going under one time.
4. Consider Financing Options
Many offices offer financing options for their procedures, which is why talking to your doctor about your options could put you in a better place financially. Whether it's paying out the procedure specifically to the doctor or finding the right outside financing for your needs, you will never know for sure until you speak to a doctor who is well-versed in the different options available.
Is Breast Augmentation Right for Me?
When thinking about a potential cosmetic surgery, it's so important to have a consultation with a qualified and capable surgeon. This will keep your expectations realistic by choosing the right procedure for your body and save on breast augmentation procedures. At Moein Surgical Arts, Dr. Moein and his team are highly skilled in the art of body transformation.
You can set up a virtual consultation with Dr. Moein today, where you can ask your questions, voice your concerns, and be assured that you are making the right decision for yourself and your body confidence. Call or Text (310) 589-3691 to schedule your consultation and learn why Dr. Moein is highly respected in his industry.