Breast surgery is a major procedure that can leave you with significant bruising and swelling. But did you know that there are ways to reduce these side effects, swelling after breast surgery, and speed up your recovery time?
Breast surgery refers to cosmetic surgery that is used by millions of women for various important reasons. Women with breasts smaller than they would prefer to use breast augmentation to give them larger, more voluminous breasts. This is possible with breast implants and the fat transfer technique, also known as natural breast augmentation.
Women who have undergone pregnancy and breastfeeding may have breasts that sag and rub against their abdomens, leading to painful rashes. A breast lift repositions the breasts and areolas so they're perkier with a more youthful look and feel.
Breast reduction is used by women with overly large breasts to alleviate neck and shoulder pain, not to mention make certain activities easier to manage, like running.
To make these changes possible – and to renew your confidence while giving you a new lease on life – breast surgery involves the cutting and stretching of the skin, muscle, and connective tissue. This surgical "trauma" occurs while you are numbed or unconscious from anesthesia but will inevitably lead to bleeding, bruising, and swelling. This is true of all surgeries that involve cutting and tissue manipulation and should be expected.
As you recover from breast surgery, your doctor will give you instructions on how to care for your surgical wounds while resting at home. This advice is critical, as it's the best way to reduce bruising and swelling at the treatment site.
The sooner you can erase all the bruises and swollen tissue, the sooner you'll be able to experience the big reveal. That's when your breast surgery results finally appear.
Tips for Reducing Swelling After Breast Surgery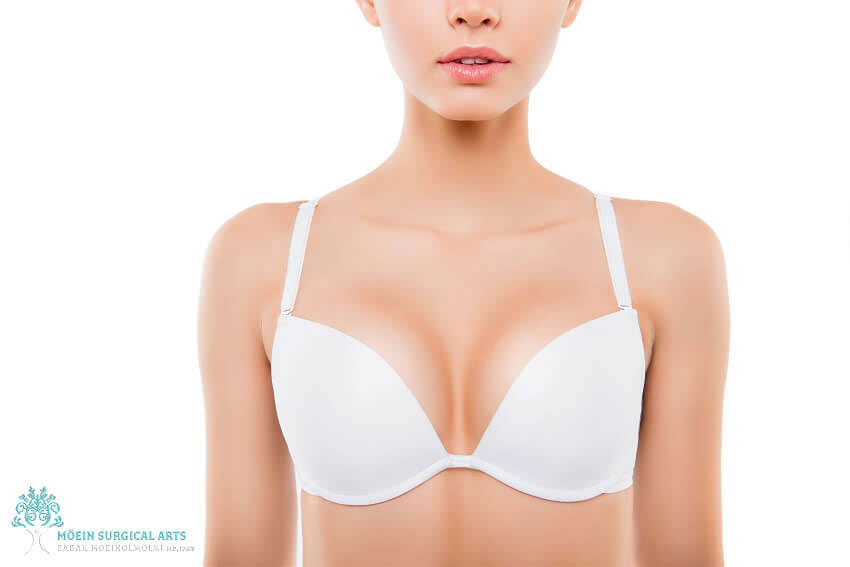 Here are some steps to familiarize yourself with so that you're well and prepared to keep that bruising and swelling after breast surgery to a minimum following the cosmetic breast surgery you're thinking about having.
Wear a Recovery Bra 
While you're at home recovering from breast surgery, you may be asked by your surgeon to wear a padded surgical bra. This garment improves your circulation, which aids in healing, and gives you support where needed to allow the surgical alterations to take hold. It is important that you wear the bra for the length of time instructed if you hope to keep bruising and swelling after breast surgery to a minimum. If the bra feels uncomfortable, tell your surgeon, who may also prescribe oral pain medication for any discomfort you might feel.
Use a Cold Compress 
Hold a cold compress directly to any bruising or swelling sites for fifteen minutes at a time. Then, take a twenty-minute break. If you don't have a compress, a bag of frozen peas or a towel filled with ice cubes will also work. Repeat the process several times for the first three days following surgery. Not only can this reduce swelling, but you'll also decrease the size and spread of any bruising that results from surgery.
Sleep Well
The best cosmetic surgeons tell their patients to get a good night's sleep if they hope to see excellent cosmetic surgery results. Restful sleep is integral to the body's regeneration process, which helps you heal and lets the surgical changes take effect. To sleep well means to have excellent sleep hygiene, which is to sleep on a comfortable mattress in a cool place and for an adequate length of time.
For the first six weeks following your cosmetic breast surgery, do your best to sleep on your back with your upper body elevated at around 45 degrees. This angle promotes fast and safe healing and puts less strain on your incision sites. By sleeping on your back at this angle, your blood will shift away from your tender breasts. The result is rapid healing with less bruising and swelling, as well as diminished pain and soreness.
Eat Right
Recovering from surgery can put a strain on you physically and emotionally. Instead of reaching for comfort food, try to eat a well-balanced diet. Only proper nutrition with reduced salt intake can help you minimize bruising and swelling for superior breast surgery results.
Do your best to eat foods rich in Vitamin K, which makes your blood thicker. Vitamin K makes your blood thicker, which in turn, can prevent bleeding. The result is less bruising and swelling on and around your chest.
Drink Water
When you become dehydrated, your body acts by storing water inside various tissues. The less water you drink, the more water you'll store. This can exacerbate any swelling that has occurred on account of surgery.
Drinking more water causes your body to release the liquid held inside the tissues, keeping swelling to a minimum. Proper hydration also keeps your blood flowing, allowing nutrients and oxygen to reach your injured breast tissue. Try to drink at least eight cups of water per day for magnificent breasts and glowing skin!
Swelling After Breast Surgery How Long Does It Last
Postoperative swelling and bruising should subside by the end of the first week. It could then take between six and twelve months before you see the full and ultimate results of your breast surgery.
By following your doctor's advice and taking proactive steps like using cold compresses, drinking water, and sleeping while elevated, you can potentially shorten the time to the major reveal: When the true results of your surgery finally appear.
Schedule a Consultation with Cosmetic Surgeon Dr. Babak Moein 
If you're still on the fence about breast surgery, you're encouraged to schedule a consultation by contacting Moein Surgical Arts. It's said that over 70% of women are insecure about their breasts. For some, breasts in their natural state cause discomfort and pain. See what breast surgery could do for you and learn more about the healing process by speaking with Dr. Babak Moein.
You can schedule a consultation with Dr. Moein by calling (310)694-4486.