Liposuction Revision Surgery
LOS ANGELES LIPOSUCTION REVISION SURGERY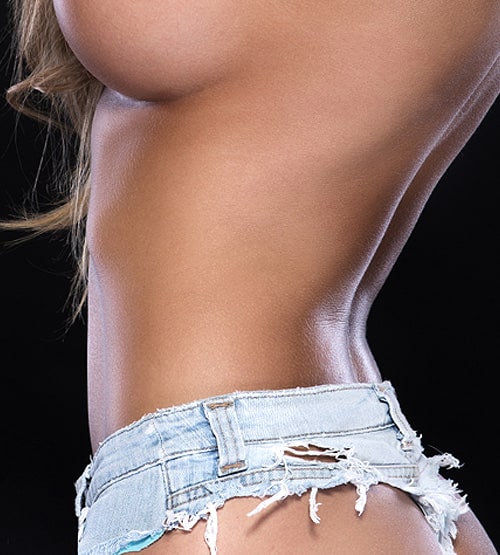 WHAT IS LIPOSUCTION REVISION SURGERY?
Liposuction revision is performed to correct a past liposuction procedure. Liposuction revision surgery can be performed in the face, neck, stomach, hips, buttocks, thighs, and arms. Patients who have had a liposuction procedure by another plastic surgeon and are not satisfied with the results can come to Moein Surgical Arts to receive the top liposuction revision surgery from Dr. Moein. As a liposuction specialist, Dr. Moein can help patients improve past procedures with the leading techniques and technology.
IDEAL CANDIDATES FOR LIPOSUCTION REVISION SURGERY
Candidates for a liposuction revision surgery may wish to improve past procedure results. Patients should be in good health and have realistic expectations. Dr. Moein will meet with each candidate for a comprehensive consultation appointment. During the appointment, Dr. Moein will thoroughly examine the area of concern and review the patient's medical history. The patient may discuss their concerns and any questions regarding the revision procedure with Dr. Moein at this time. Dr. Moein will create a personalized treatment plan for the patient.
HOW TO PREPARE FOR A LIPOSUCTION REVISION SURGERY
Dr. Moein will educate patients on how to prepare for the procedure. Dr. Moein recommends patients not take a non-steroidal anti-inflammatory medication such as Aspirin, Motrin, Ibuprofen, or any other blood thinners. Patients should arrange for someone to drive them to and from the surgery. Dr. Moein may also recommend patients not eat any food or drink any fluids the night before the procedure.
LIPOSUCTION REVISION SURGERY
The liposuction revision procedure is performed as an outpatient procedure at Moein Surgical Arts. Liposuction revision surgery will vary with each patient. Dr. Moein offers various types of liposuction procedures, including SmartLipo™, VASERlipo®, tumescent liposuction, and water jet liposuction. During the procedure, Dr. Moein will carefully remove all unwanted fat to achieve the patient's desired results. Following the procedure, patients may experience swelling and soreness. A compression garment will be placed on the treated area to reduce symptoms and heal the desired shape into place. Dr. Moein will meet with the patient after the procedure for a follow-up appointment to evaluate their healing process and answer any questions they may have about the recovery timeline.
Contact Dr. Moein today to book your consultation and learn more about liposuction revision surgery.
To find out more about DR BABAK MOEIN. We advise you to request a consultation online. If you prefer, you are more than welcome to call our office
to schedule your appointment.