Getting cosmetic surgery is one of the best ways to feel more confident about your appearance.
But what if you don't want everyone to know you've had surgery? Is it possible to keep a tummy tuck, liposuction, breast augmentation, or other types of cosmetic surgeries secret?
The answer is yes, you can experience slight alterations of your face and/or body without letting the world in on the fact you've had work done.
Cosmetic procedures run the gamut from simple dermal fillers to more complex mommy makeovers. No matter which surgery you opt for, you should be able to keep your surgery concealed. You can do so by following a few simple steps, which we'll delve into in a moment.
Cosmetic surgery can do wonders for the way you look. And it can help you feel much better about yourself.
Here are some things to think about if you're considering having surgery and keeping it a secret, along with a glimpse at the other side of the coin, where you confidently shout to the world you've undergone your procedure of choice.
Should You Tell Anyone About Your Cosmetic Surgery?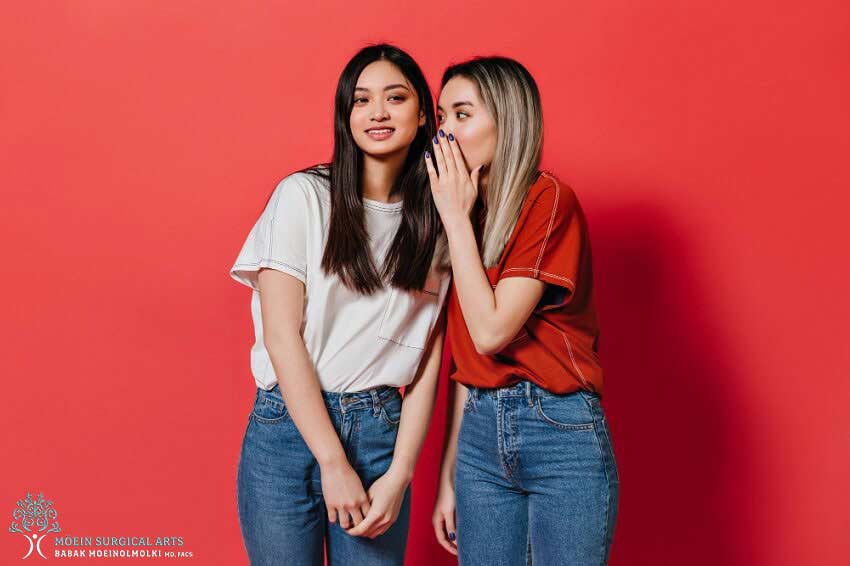 The fact is, having a cosmetic procedure is solely your business. If you don't want to tell anyone, that is entirely up to you.
There are some cosmetic surgery patients who are so secretive about their procedures they don't even tell their spouses. You don't have to go to that extreme. In fact, it might benefit you to let a few select people in on your clandestine operation.
Aside from you and your doctor, it might help to let your boss know so that you can get time off for recovery. Then again, your recovery could always be disguised by telling your boss you're going on 'vacation.'
If you have a best friend, that person can help you during your recovery period. It also helps to have a confidant you can rely on when in recovery. Someone you can lean on if your mood gets too low or who can take care of you as the anesthesia wears off after you return home from the surgical center.
Other than a few people, it is entirely possible to keep cosmetic surgery under wraps.
Or you can go with the incognito method and try not telling anyone at all.
How to Keep Cosmetic Surgery a Secret
The best way to hide the fact you've had cosmetic surgery is to follow three simple rules.
Form a Plan
Aside from scheduling the day of the procedure, you'll want to plan adequately for your cosmetic surgery recovery period. Depending on the procedure you want, you should expect at least a few days of downtime. Some surgeries like the facelift and tummy tuck might require a week or more in recovery. This means you'll want to schedule one to two weeks off work far in advance.
Once again, you don't have to tell anyone the reason you are taking time off. Just make sure you give yourself the necessary amount of healing time.
Part of healing is making sure any swelling you experience during surgery is subsidies. It's that swelling that will give away the fact that you've had surgery. Without so much swelling, you'll have an easier time keeping your procedure close to the vest.
Inform Your Doctor
Your doctor may be able to help retain your secrecy. For facial surgery, for instance, the best cosmetic surgeons can safely reduce swelling and bruising, which makes the surgery easier to cover up.
Your doctor may also have tips for wearing makeup, using ice packs, and applying special creams and lotions to help with swelling, bruising, and scarring, respectively.
Wear the Right Clothes
Some cosmetic surgeries can be covered up with the strategic use of your wardrobe. Breast augmentation can be disguised with frilly tops, for instance, while the Brazilian butt lift can be hidden with baggier pants.
What is Your Cosmetic Surgery Cover Story?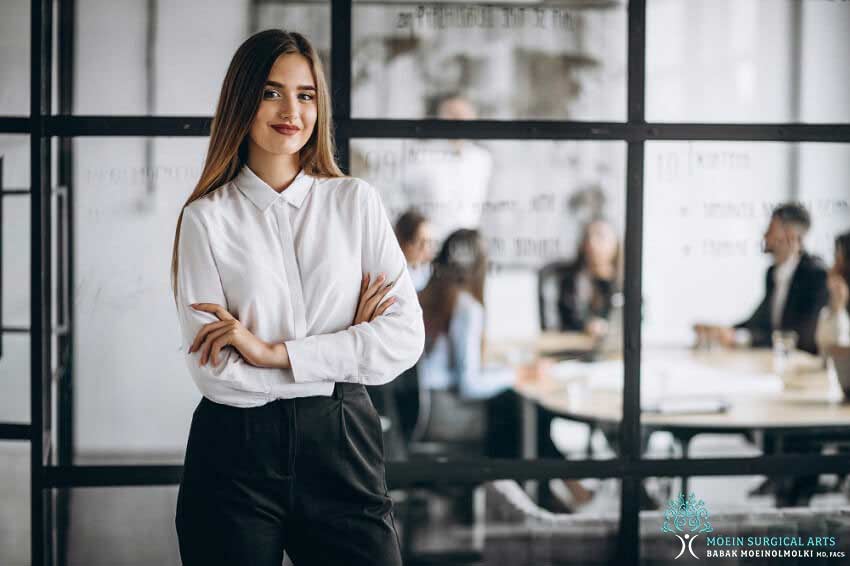 What happens if you return to work after recovering from cosmetic surgery only for people to start asking you, "Did you have work done?"
They can't quite put their fingers on it, but people around you suspect that something is different.
If you don't want to divulge that you underwent a cosmetic procedure, you should at least have some sort of cover story in mind.
For any "slimming" surgeries like liposuction, the tummy tuck, the arm lift, and the thigh lift, you can simply tell everyone who asks that you've started a new diet and are already seeing fantastic results.
For facial surgeries that aren't as easy to mask, consider wearing new makeup and going with a new hairstyle immediately after returning to work following your procedure.
You can then chalk up your newly altered appearance to a few distinct changes instead of calling attention to your nose (rhinoplasty), eyelids (eyelid surgery), forehead (Botox cosmetic or brow lift), or your entire face (facelift).
Choose the Best Cosmetic Surgeon
The best way to hide cosmetic surgery is to ensure you do your homework when choosing your cosmetic surgeon. A good surgeon can deliver results that look as natural as possible. These surgeons are able to give you an altered appearance that is subtle yet dramatic for a better version of yourself.
Why Do You Want to Keep Cosmetic Surgery a Secret?
There are several good reasons for wanting to hide your cosmetic surgery from the world.
Privacy
You might feel that cosmetic surgery is your business and nobody else's. That statement is 100% correct. You are entitled to your privacy, and don't let anyone tell you differently.
Fear of Judgment
There used to be a stigma against getting cosmetic surgery, but that was in the past. Today, cosmetic surgery is much more commonplace. You are less likely to be judged for having surgery than just five years ago.
Still, you might want to keep your surgery a secret to keep from being gossiped about around the water cooler at work, for instance. That's perfectly understandable and, again, you have a right to your privacy.
Reasons to Tell Others About Your Cosmetic Surgery
On the other hand, there are two excellent reasons you might want to tell others you've had cosmetic surgery.
You Might Inspire Others
You can tell everyone you've gone on a diet or that you've tried a new hairstyle, or you can be proud of your decision to undergo a cosmetic surgical procedure.
Once you have made the decision to have cosmetic surgery, you have already spent hours researching the procedure and learning all you can about the technique in question.
All that knowledge you gained could come of use to someone who is just now thinking about surgery. One of your friends, family members, or co-workers might be considering the same surgery you opted for. Wouldn't you like to help if you could?
Even if the surgery they want is different than the one you chose, your insight could help the person learn more about the various stages involved with cosmetic surgery, including the consultation with the cosmetic surgeon, scheduling the procedure, undergoing surgery, and the recovery period afterward.
You Have Permission to Let Your Confidence Soar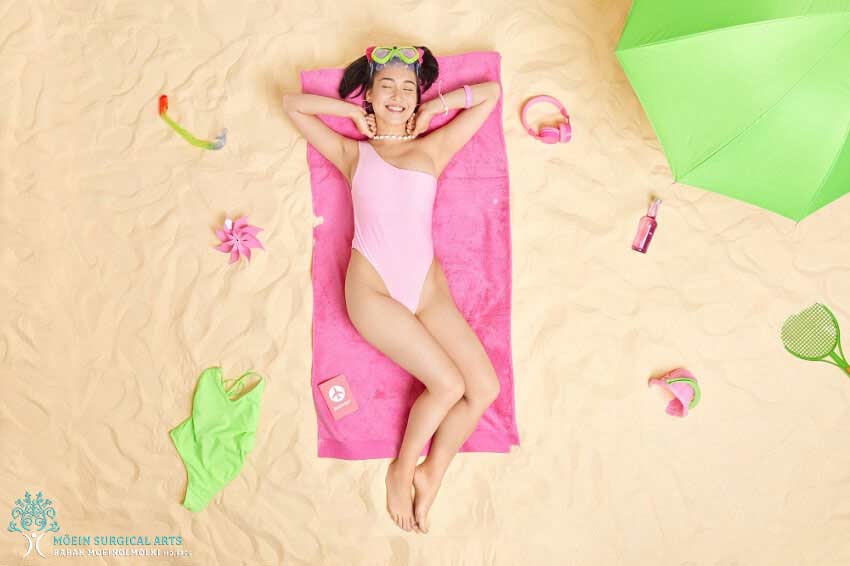 Most people undergo cosmetic surgery because they want to feel better about the way they look. They might have a defect they've been wanting to correct for years, such as a flabby tummy or excess breast growth for men.
By having cosmetic surgery, your confidence can experience a major boost once your results are achieved.
As a result of surgery, you're suddenly holding your head up a little higher. You feel as though you want to show your face instead of hiding it away. That's the power of cosmetic improvement, and you should never feel as though you have to hide from that major surge of self-esteem. Nor should you feel shameful for doing something as important as this for yourself.
So, instead of keeping things a secret, don't be afraid to show off your cosmetic surgery results. Feel free to shout to the world that you've had work done, and feel confident that you made the best decision for yourself.
Regardless of your reasons for having surgery, whether or not to tell others is completely up to you. By now you have a fair and balanced approach to both scenarios. You can keep your surgery a secret and no one has to know with the proper planning and cover story.
Or you can tell others and be proud of your decision and confident in your new appearance, while potentially helping others who are thinking along the same lines.
And if you're just now considering surgery and this is all part of your discovery phase, the next step is to schedule a consultation with a skilled and highly trained cosmetic surgeon.
Ready to Discuss Cosmetic Surgery and the New You in 2022?
Since we are headed into a New Year, now is the best time to revamp your appearance. You can do so with cosmetic surgery. And, as if we've demonstrated, you don't have to tell a soul about it.
You can find the procedures you're most interested in by calling Moein Surgical Arts to schedule a consultation with the world-renowned aesthetic surgeon, Dr. Babak Moein.
At Moein Surgical Arts, we are committed to providing you with a safe and comfortable experience. Board-certified cosmetic surgeon, Dr. Moein, has helped thousands of patients achieve their aesthetic goals using popular procedures like breast lift, facelift, eyelid lift, and Brazilian Butt Lift. And now, he looks forward to helping you. To learn more or to schedule your consultation, call us today throughout Southern California at (310)694-4486.